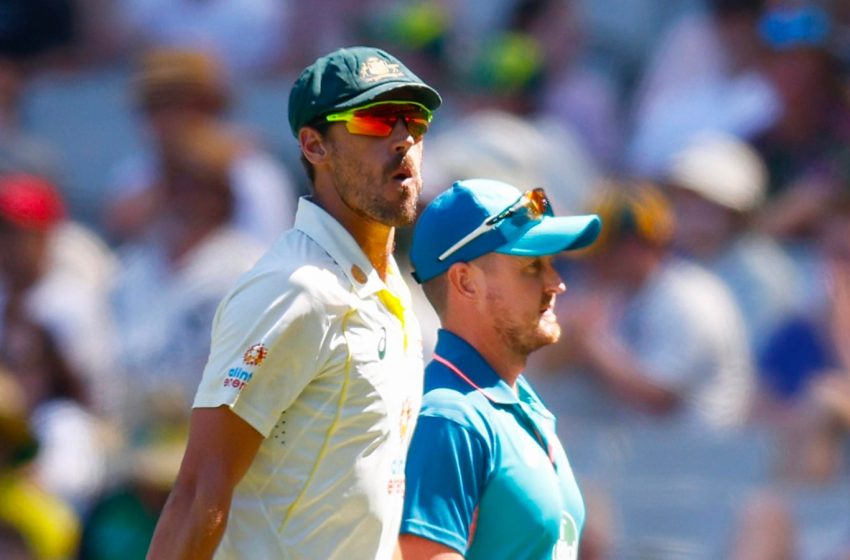 Mitchell Starc
Mitchell Starc is ready to play the 3rd test despite he's not fully fit
Mitchell Starc and Cameron Green, who missed the first two Tests of the ongoing four-match series against India, are set to play in the third in Indore beginning Wednesday, 1 March.
Having lost the first two Tests within three days, Australia have been dented further in the ongoing four-match series in India, with skipper Pat Cummins to miss the third Test in Indore, having flown back home for personal reasons.
The visitors, though, would be encouraged by the return of left-arm quick Mitchell Starc and all-rounder Cameron Green, the duo having been cleared to play after recovery from finger injuries. As for Starc, the recovery hasn't been 100% yet, which he admitted would take time, but remained confident ahead of the Test.
"It's good enough," Starc said of his finger on Monday, 27 February. "There's going to be a level of discomfort… I don't think it is going to be 100% for a little while, but the ball is coming out quite nicely and I feel like I'm pretty much at full tilt."
The 33-year-old reflected further on the nature of the injury, adding that he has been used to playing under similar circumstances right through his career.
"It's more the discomfort of the joint being restricted having been in a splint for six weeks and still having to be in a splint for another couple of weeks yet. That's probably the only part – dealing with the discomfort of it, getting the mobility back into it. That'll come over the next couple of weeks and it's progressed again, it's a progression each day I bowl. It's not a concern for me, the comfort levels – it's doing what I need it to do to be available to play.
"It wouldn't be the first Test match I've played in some sort of discomfort. If I only played when I was at 100%, I would have only played five or ten Tests. I'm happy with where it's at and I've built up enough of a pain threshold to deal with that stuff over the last 10 or 12 years."
Despite spin having dominated in the first two Tests, Starc maintained that the quicks too have a role to play. He highlighted the prospect of reverse swing as the game progresses, and the footmarks he'd be able to produce, which would benefit spinners Nathan Lyon and Todd Murphy.
"It's been a challenge for the first two Tests," Starc said. "We do see spin playing a huge part having said [that,] the quicks still do have a part to play with the new ball [and] if it does reverse, being able to bowl that skiddy ball and bringing the stumps into play. There's certainly an important role to play for the seam bowlers as we've seen with the Indian guys, and Pat has been attacking at times as well with the ball.
"Being a left-armer is slightly different and obviously with the footmarks I can produce as well. Certainly produce more than the Indian guys with being a bit heavier at the crease."