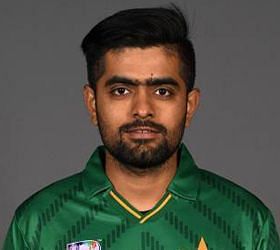 Looking forward to a great experience with Colombo Strikers, Says Babar Azam
Looking forward to a great experience with Colombo Strikers, Says Babar Azam
Colombo, 4th June, 2023: Pakistan captain and World Number 1 ODI batter Babar Azam will turn out for the Colombo Strikers in the Lanka Premier League, in what is the team's first foray into the tournament.
The Colombo franchise will be closely watched and followed by the fans as the hope to see Babar Azam destroy bowling attacks with immense grace. The top-order batter has amassed a whopping 9201 runs in 260 T20s at a brilliant average of 44.02.
Babar, who is also one of the first cricketers to join the Harvard Business School's executive education program, along with Pakistan teammate Muhammad Rizwan, recently met up with Colombo Strikers' owner Sagar Khanna for a candid conversation ahead of the Lanka Premier League which will begin on the 31st of July.
The player auction for the Lanka Premier League is on 14 June and the Colombo Strikers will hope to sign on some of the most talented players up for grabs. Along with Babar, Matheesha Pathirana, Naseem Shah and Chamika Karunarathne are already included in the squad for the Colombo Strikers.
"It was great to catch up with Sagar and talk cricket. Sagar is a fantastic person to work with and is quite keen and knowledgeable when it comes to the game of cricket. I hope to have more such conversations and chats with him in the future. The Lanka Premier League with the Colombo Strikers will be a great experience for me and the others I feel with this kind of a management who is always backing the players," Babar Azam said.
"Babar is a superb player and an inspiration to all the youngsters. His batting abilities and captaincy is fantastic and I am very happy that we are working together at the Colombo Strikers. It is always nice to talk cricket with him, and even better when it happens in person," Sagar Khanna said.
The Colombo Strikers will be in action in their first season of the Lanka Premier League in July-August 2023.