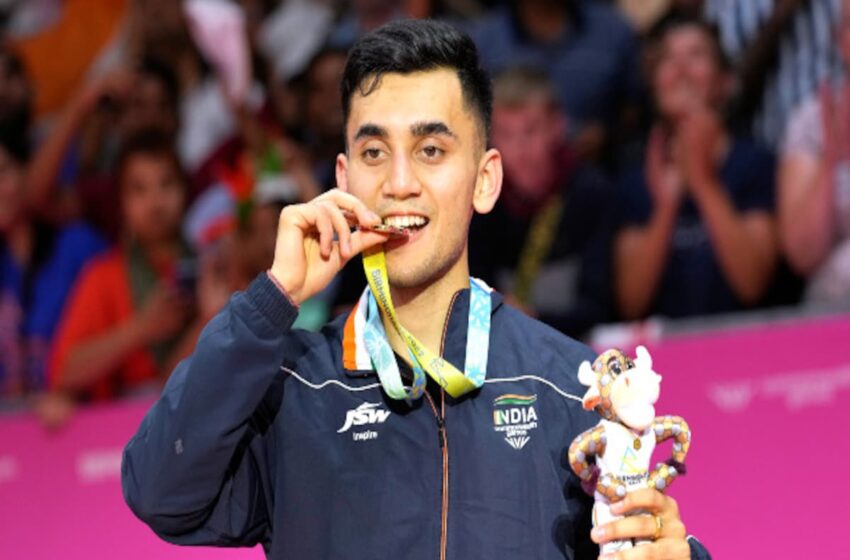 Lakshya Sen
Lakshya Sen becomes Commonwealth Games champion on debut
Lakshya SenIndia's young shuttler Lakshya Sen won the men's singles gold medal at the Commonwealth Games 2022 on Monday. In the ongoing Games in Birmingham, Lakshya defeated Malaysia's Ng Jay Yong in the final match that lasted 3 games. The 20-year-old played the gold medal match 19-21, 21-9, 21-16. Lakshya Sen landed in the Commonwealth Games for the first time and won the gold medal.
Lakshya Sen, who hails from Almora, had won a bronze medal at the World Championships last year while he finished runner-up at the All England Open 2022 this year. Lakshya took a 2-0 lead in the opening game of the final, which took it 5-3 and then 6-4. Later, Yong came back to level the match at 7-7 and then took a 11-9 lead. Lakshya later levelled the score at 18-18 but Yong took the first game 21-19.
In the second game, the Malaysian took a 4-3 lead, which was 6-4. Lakshya made a comeback to level the score at 6-6 and then took a 11-9 lead, which he saw to be 16-9. Later, the game was won by Lakshya 21-9. In the third and decisive game, Lakshya took an 8-4 lead and then 9-6 to make the score 11-7. After that the lead was made 14-8. Yong made a comeback to make the score 12-17, but Lakshya won the game 21-16 and added gold to the country's account.
Yong has won mixed team gold in the current games while he managed to win bronze in the Sudirman Cup last year. With this, India's account now has a total of 57 medals, including 20 gold medals. India has also won 15 silver and 22 bronze.
Discipline: Badminton
Event: Men's Singles
Date of Birth: 16/08/2001
Hometown: House No. – 2103, Prestige Royal Garden,
Avalahalli, Doddaballapur Main Road, Yelahanka, Bangalore,
Karnataka
Training Base: Prakash Padukone Badminton Academy, Bangalore
Coach: Yong Sung Yoo (Foreigner)
Background: Lakshya Sen is an Indian badminton player who is currently ranked 10 in BWF
World Rankings and was also former world junior no. 1. He has also won gold medals at the
2018 Asian Junior Championships in the boys' singles and at the Summer Youth Olympics in
the mixed team event. The young shuttler's stock rose exponentially in 2021 as Lakshya Sen
started surprising higher-ranked opponents regularly and reached the podium consistently.
Lakshya was part of the Indian men's team for Thomas Cup 2022. The team went on to win
the Thomas Cup by beating Indonesia 3-0 in the final, with Lakshya winning his match
against Anthony Sinisuka Ginting.
Achievement:
Winner in Men's Singles event at Thomas cup 2022 leading India to victory.
Silver medal at All England Open 2022
Winner of India Open 2022
Bronze medal at BWF World Championships 2021
First BWF World Tour title at Dutch Open 2019
Silver medal at Youth Olympics 2018
Gold medal at Asian Junior Championships 2018
Key Government Interventions: Funding towards International competitions in the current