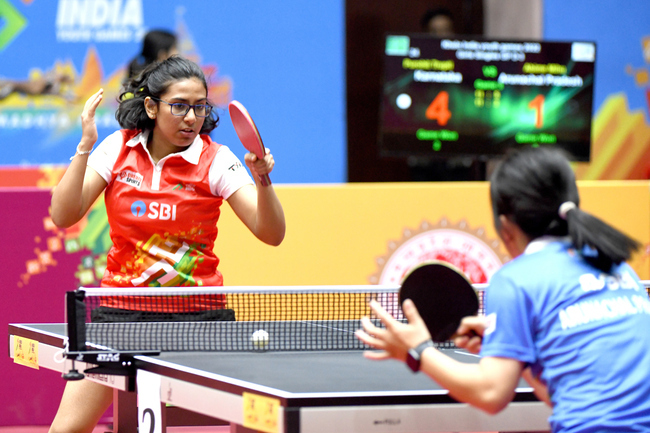 Khelo India Youth Games 2022 Madhya Pradesh Day 2 Results
Khelo India Youth Games 2022 Madhya Pradesh Day 2 Results
Khelo India Youth Games 2022 Madhya Pradesh (KIYG 2022 MP), the quarterfinal line-ups in table tennis (TT) were confirmed in Indore while here in the capital Bhopal, the semifinal lineups in volleyball became clearer. Indore also saw Basketball action and Gwalior some Badminton action. Boxing also began at the T.T. Nagar stadium here with as many as 35 preliminary bouts decided on the day, while Kho Kho group games also took place at the Ranital Sports Complex in Jabalpur.
Table Tennis: West Bengal, Uttar Pradesh dominate men's while Maharashtra, Haryana dominate girls quarter-final lineups
The biggest news of the day came out of the Abhay Prashal venue in Indore, where both the boys and girls quarterfinal lineups were firmed up. In the boy's singles, three from West Bengal (Praneet Bhaskar, Soumyadeep Sarkar, Ankur Bhattacharjee) and two from Uttar Pradesh (Divyansh Srivastava, Sarth Mishra) made it to the final eight. They were joined there by Khelenndraj Yengkhom (Manipur), Jash Modi (Maharashtra) and Aadarsh Om Chetri (Delhi). In the girls draw, there were three paddlers from Maharashtra (Pritha Vartikar, Taneesha Kotecha, Risha Mirchandani) and two from Haryana (Prithoki Chakraborti, Suhana Saini), who were joined in the final eight by Nehal Venkatasamy (Tamil Nadu), Lakshita Narang (Delhi) and finally the TOPS Development athlete Yashaswini Ghorpade (Karnataka).
The finals are slated for February 03, 2023.
Volleyball: Tamil Nadu, Gujarat and Haryana boys and Tamil Nadu and West Bengal girls make it through
At the SAI Indoor Hall in the outskirts of Bhopal where the volleyball competitions are taking place, the boys from Tamil Nadu and Gujarat from Group A and Haryana from Group B made it through to the semis, notching up their second group victories on the day. Similarly, the Tamil Nadu and West Bengal girls also made it through courtesy their second group stage wins of the competition. The volleyball medals are also to be decided on February 03, 2023.
Basketball, Badminton, Boxing and Kho Kho: Preliminary action continues
Basketball was the second sport to see action in Indore where a total of 11 group games for both Boys and Girls were played. Badminton began sports proceedings in Gwalior and total of 12 matches (seven in Boys and five in Girls) saw results in the Round of 16.
There were 35 Boxing bouts held at the T.T. Nagar stadium in Bhopal to kick-off proceedings for the sport while eight Kho Kho matches, four each for boys and girls, were held on the day, over at the Ranital Sports Complex in Jabalpur.
There were seven bouts in the Girls category where the referee had to stop the contest and a couple of walkovers while among the 17 Boys bouts, three resulted in premature finishes with the same number of walkovers being registered.
Scores of the Day:
Badminton (Girls Singles)
Karnika Sree S (Karnataka) bt Hiral Chouhan (Chattisgarh) 21-18 21-17
Rashmitha Donepudi (Andhra Pradesh) bt Meghana Reddy M (Telengana) Walk over
Gargi (Uttar Pradesh) bt Akshaya Rajkumar (Daman and Diu) 21-5 21-6
Aishwarya Mehta (Madhya Pradesh) bt Watisungla Watisungla (Nagaland) walk over
Naishaa Kaur Bhatoye (Maharashtra) bt Sakshi Phogat (Rajasthan) 21-18 21-10
Badminton (Boys Singles)
Nicholas Nathan Raj (Karnataka) bt Sanskar Saraswat (Rajasthan) 14-21; 21-9; 21-13
Satvik Shankar (Karnataka) bt Harsh Chudasama (Daman n Diu) 21-16 21-9
Abhinav Thakur (Punjab) bt Sathwik Reddy K (Telengana) 21-7 21-11
Lokesh Reddy K (Telengana) bt Tonmoy Bikash Boruah (Assam) walk over
Tushar Suveer (Karnataka) bt Uday Mukati (Madhya Pradesh) 21-11 21-11
Manraj Singh (Haryana) bt Ayush Shetty (Karnataka) 21-18 21-13
No Match between Ansh Vishal Gupta (Uttar Pradesh) and A. Jamir WapanGmeren (Nagaland)
Basketball
Tamil Nadu bt Kerala 98 – 50 in Boys Group B
Tamil Nadu bt Rajasthan 90 – 62 in Girls Group B
Kerala bt Karnataka 69-66 in Girls Group A
Punjab bt Madhya Pradesh 81-56 in Girls Group A
Rajasthan bt Madhya Pradesh 83-64 in Boys Group A
Kerala bt Karnataka 69-66 in Girls Group A
Punjab bt Karnataka 72-68 in Boys Group A
Tamil Nadu bt Rajasthan 90 – 62 in Girls Group B
Chattisgarh bt Maharashtra 93-79 in Girls Group B
Tamil Nadu bt Kerala 98-50 in Boys in Group B
Uttar Pradesh beat Chandigarh 98-96 in Group B
Kho Kho (Boys)
Delhi bt Chhattisgarh 32-20 (18-8, 14-12)
Maharashtra bt Madhya Pradesh 32-26 (32-12, 0-14)
Odhisa bt Rajasthan 24-10 (24-4,0-6)
West Bengal bt Telengana 26-22 (22-10, 4-12)
Kho Kho (Girls)
Maharashtra bt Madhya Pradesh 44-20 (44-8, 0-12)
Odisha bt West Bengal 22-18 (22-10, 0-8)
Karnataka bt Rajasthan 32-22 (20-12, 12-10)
Punjab bt Tamil Nadu 30-24 (18-12, 12-12)
Table Tennis
Divyansh Srivastava of Uttar Pradesh beat Praneet Bhaskar of Bengal 3-1 (10-12, 11-08, 11-07, 13-11) in Group A Boys.
Ankur Bhattacharjee of Bengal beat K.J Aakash of Karnataka 3-1 (11-9, 5-11, 11-4, 11-9) in Group B.
Dhairya Tandel of Daman & Diu got a walkover from Tamil Nadu's Preyesh Suresh Raj
Jash Modi of Maharashtra beat Soumyadeep Sarkar of Bengal 3-1 (7-11, 12-10, 12-10, 11-8) in Group C Boys.
Neil Mulye of Maharashtra beat Maph Tarh of Arunachal Pradesh 3-0 (11-2, 11-5, 11-1) in Group D Boys.
Aadarsh Om Chetri of Delhi beat Sarth Mishra of Uttar Pradesh 3-1 (10-12, 11-6, 7-11, 4 -11) in Group D Boys.
Khelendrajit Yengkhom of Manipur got a walkover from Ansh Goyal of Madhya Pradesh in Group B Boys.
Taneesha Kotecha of Maharashtra beat Lakshita Narang of Delhi 3 – 1 (11-8, 10-12, 11-7, 11-6) in Girls Group D
Suhana Saini of Haryana bt Shriya Anand of Tamil Nadu 3-0 (11-7, 11-9, 11-9) in Group A 2nd round
Yashaswini Ghorpade of Karnataka lost a game but eventually beat Jennifer Varghese of Maharashtra 3-1 (11-5,11-7,7-11,11-7) in second round Group B
Pritha Vartikar of Maharashtra defeated Oishiki Joardar of West Bengal in a tight 3-2 (11-5,11-7, 6-11, 8-11, 11-4)
Boxing (Girls)
Bout 1: Sujuma Boro (ASM) bt Priya (HP) 5:0 in Girls 45-48kg
Bout 2: Lanchenbee Thonram Chanu (KAR) bt Muskan Kumar (D&D) RSC/2 in Girls 48-50kg
Bout 3: Kashish (HP) bt Poovitha D (TN) RSC/3 in Girls 48-50kg
Bout 4: Devika Ghorpade (MAH) bt Elangbam (MAN) 5:0 in Girls 50-52kg
Bout 5: Meherunnisa Begum (AP) bt Meku Tadar (ARU) 5:0 in the Girls 50-52kg
Bout 6: Huidrom Griviya Devi (MAN) bt Shivangi Shandil (HP) 5:0 in the Girls 52-54kg
Bout 7: Alkon Mili (ASM) bt Kampara Sravana Sandhya (AP) RSC/2 in Girls 52-54kg
Bout 8: Anamika Yadav (UP) bt Sunidhi (HP) 5:0 in Girls 54-57kg
Bout 9: Anee Lepcha (SIK) bt Ayesa Bano (LAD) RSC/2 in Girls 54-57kg
Bout 10: Prachi (HAR) bt Thongam Kunjarani Devi (MAN 4-1 in Girls 57-60kg
Bout 11: Snigdha Shree (JHA) bt Simran (PUN) w.o in Girls 57-60kg
Bout 12: Ravina (HAR) bt Disha Patil (MAH) 5:0 in Girls 60-63kg
Bout 13: Melody (MAN) bt Sundi Deepika (AP) 5:0 in Girls 60-63kg
Bout 14: Priyanka (HAR) bt Monalisa (WB) w.o in Girls 63-66kg
Bout 15: Harshika Rana (UP) bt Khushi Sharma (DEL) RSC/R2 in Girls 63-66kg
Bout 16: Anjali (UP) bt Komal Mahar (UTK) 4-2 in Girls 66-70kg
Bout 17: Muskan (HAR) bt Pema Ongmu Bhutia (SIK) RSC/R3 in Girls 70-75kg
Bout 18: Diksha (DEL) bt Priya (PUN) RSC/R1 in Girls 70-75kg
Boxing (Boys)
Bout 1: Gorli Atchutha Rao (AP) bt Aakash Kumar (D&D) 5:0 in 46-48kg
Bout 2: Gopi (PUN) bt Ranjeet Singh (J&K) RSC/R2 in 46-48kg
Bout 3: Laishram Edipak Singh (MAN) bt Challa Janneswara Rao 5:0 in 48-51kg
Bout 4: Bilal Mohammed (TEL) bt Rohit Chamoli (CHD) w.o in 48-51kg
Bout 5: Rudrajeet Singh (MP) bt Irfan Ali (LAD) 5:0 in 51-54kg
Bout 6: Rishabh Sharam (UP) bt Besuve Rakho (Nag) w.o in 51-54kg
Bout 7: Arjun (DEL) bt Anand Yadav (MP) 3:2 in 54-57kg
Bout 8: Nikhil (PUN) bt Rohit Yadav (UP) 5:0 in 54-57 kg
Bout 9: Jogendra (RAJ) bt Wahengbam (MAN) 3:2 in 57-60kg
Bout 10: Kishan Raj K (KAR) bt Prabin Kumar Chetri (SIK) 5:0 in 57-60kg
Bout 11: Md Kaif Ali (JHA) bt Adrian Gurang (SIK) 5:0 in 60-63.5 kg
Bout 12: Amam Rathore (UP) bt Rudra Pratap Singh (CHD) 4:1 in 63.5-67kg
Bout 13: Tangu Ngomle (ARU) bt Harsh Sonwani (CHT) 5:0 in 63.5-67kg
Bout 14: Kabilan G (TN) bt Sadanand Rohit Raj (TEL) 4:1 in 67-71 kg
Bout 15: Harsh Kumar Gupta (JHA) br Abdul Sahil (CHT) 4:1 in 71-75kg
Bout 16: Deepak (HAR) bt Yogesh Pawar (UTK) RSC/R3 in 71-75kg
Bout 17: Thiyaagrajan B (TN) bt Gopinath Gochikar (ORI) RSC/R2 in 75-80kg