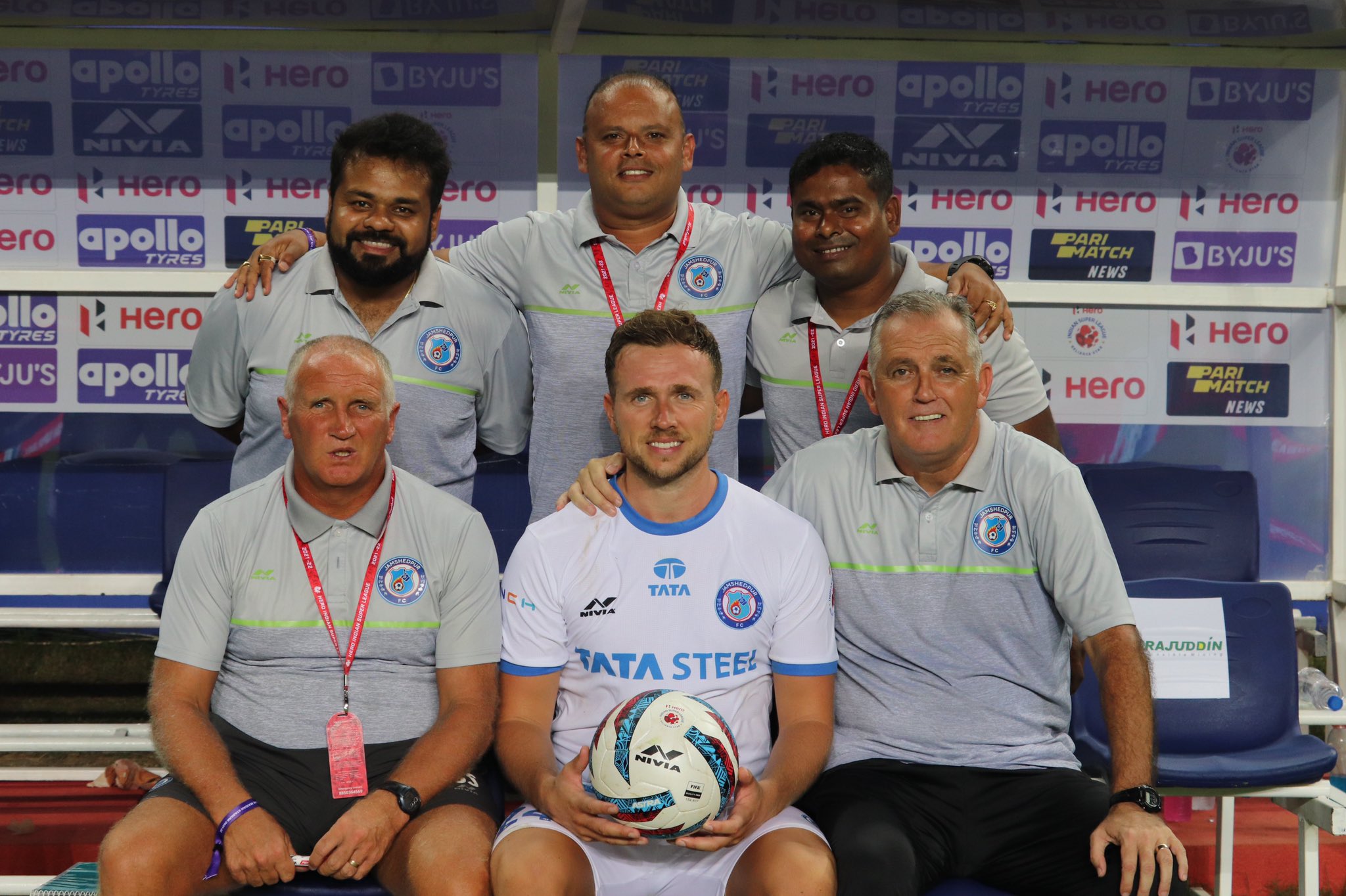 Image: Jamshedpur FC/Twitter
Jamshedpur FC Have Done Great: Owen Coyle
Jamshedpur FC head coach Owen Coyle felt his team needs to keep on improving their level if they are to sustain a challenge for the semi-final spot in the Hero Indian Super League (ISL).
The Red Miners sit in fourth spot in the Hero ISL table and are just three points behind league leaders Mumbai City FC.
Coyle's men will look to rise up the table when they face Chennaiyin FC on Sunday who come into the match on the back of two consecutive losses.
The Scottish head coach addressed the media ahead of the match.
Here are the excerpts from the pre-match press conference:
Jamshedpur FC take on Chennaiyin FC next who are going through a bad spell and will play a game after just a two days break. Does it give Jamshedpur FC an advantage?
Not particularly because we've had that when we've had to play ATK Mohun Bagan after three days and then Mumbai City FC after another two days. That's what happens in the league, the fixtures come about quickly and ultimately everybody plays a similar number of games in the same period of time over the course of the season.
Chennaiyin FC have good players, they have a wonderful coach, somebody I've been very taken by, I liked when he spoke, he spoke very well. And then obviously, I know the club, I was out there and very successful in my time there.
In the game against Bengaluru FC they were very unfortunate. Chennaiyin FC could have easily have been 3-0 up after 15-20 minutes, they were totally dominant for the first 20 minutes and, and they had some wonderful chances. So we certainly know how dangerous the opponent is.
So we will be very respectful and very wary of the threat that they have. We also have to make sure that we are bringing our best game, if we are at our very best we've shown we can stand toe to toe with anybody in this league and win games. And that's what we have to do.
Jamshedpur FC have had a bit too many draws and sit fourth in the Hero ISL table. But the team is just three points off first place. What's your take on this situation?
I think Jamshedpur FC from the outset have been very good. I think everybody would, accept that we probably should have a few more points, given the performances we had. We have lost one game. And even in that game, we found ourselves seeing nothing down after 15 or 20 minutes and rallied back and could have taken something from that.
So I think in the league it's showing that there are lots of draws in the league. That goes without saying but Jamshedpur FC are a club, that's never been a semi-final position. At the moment, we find ourselves in those position, because we have earned the right to be there and possibly could have been higher.
What we have to do is focus on those remaining games now and make sure that we keep ourselves in those top spots, and the only way you do that is to continue to work hard to continue to improve, continue to stick together, which is really important.
We need to keep striving towards improving as there are some very good teams in the league, there are teams in the league that have spent huge amounts of money certainly far more than ourselves.
Rutvik Das delivered a top performance against Kerala Blasters. What do you think he has to do to nail a place in the team?
I was delighted with Rutvik as I was with Boris because obviously the two lads had been on the on the bench prior to that. And then obviously the injuries to Komal and Len gave the boys the opportunity. And they were ready and they have now for a period of time. And they both came in, worked very hard, brought a lot of qualities to the team. So I was delighted both Boris and you know Rutvik because it was his first start. So it was very pleasing.
They showed, as I knew anyway, from seeing him every day in training, this desire to get better. And I thought he gave a terrific performance against Kerala Blasters FC. So that stands us in good stead. And it gives us food for thought moving into the Chennaiyin FC game.
You have witnessed some top goals in your career but how do you rate Greg Stewart's goal?
I think the goal is an outstanding moment in football and Greg has the ability.
I scored nearly 300 goals in my career but certainly none anywhere near as wonderful as that stike was. And that's the quality he has. That's why I brought him to the football club. And he continues to show that that brilliant spot.
He does it within the team and that's what I love about Greg Stewart is that even if he is talented, he is everything about the team, how hard he works against the ball and what he brings with the ball. And that's why he's a shining example of what we're trying to build, what we're trying to implement at Jamshedpur FC.