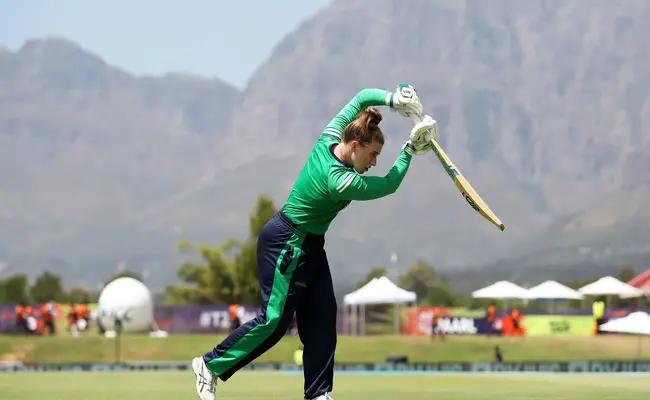 Ireland's wicketkeeper announces retirement from international cricket
Ireland's most-capped women's cricketer, Mary Waldron has decided to end her international career.
Waldron made her debut for Ireland 13 years ago in July 2010 and has represented them in 56 ODIs and 88 T20Is. The wicketkeeper affected 148 dismissals throughout her career and was also a handy batter.
The 39-year-old was set to retire after the third and final ODI against Australia but an injury ruled her out of the contest.
Speaking on her retirement, Waldron said, "It's obviously a very emotional time but I'm very proud of what I have achieved. I want to say a huge thank you to the staff and coaches at Cricket Ireland for the opportunity to represent my country, and to Pembroke and Malahide for shaping my journey and supporting me all the way.
"To my family and Roxane, thank you for your support – and giving me a roof over my head whenever I needed it. More specifically, to Mum and Dad the best supporters in the world – thank you for everything.
"Finally, to my teammates, I will miss you so much, but can't wait to follow your journey over the years ahead."
Read More: Bowlers give Australia the advantage on day one at The Oval
Laura Delany, the Ireland skipper also paid tribute to Waldron, adding, "It's a sad day when a teammate retires – but even more so when that teammate is Mary Waldron. We made our international debuts on the same day and I have loved every minute of playing alongside her.
"I'll miss her dearly, but it's at times like these that we should try to celebrate a legendary career and I'm sure Irish fans will let her know how highly-regarded she is – and rightly so."
Finally, head coach Ed Joyce was all full of praise for Waldron, adding, "Mary was one of those players you always wanted in your squad – a born leader both on- and off-the field, no matter the situation she could always be relied upon to rally her teammates or be a support during challenging times.
"She will be missed greatly, by the coaches, but probably more so by her teammates who she was friend, colleague or mentor to – and sometimes all three at once. I know her playing retirement is not Mary's loss to our sport, as she is already making her way through the umpiring ranks and I wish her well in that new primary focus."