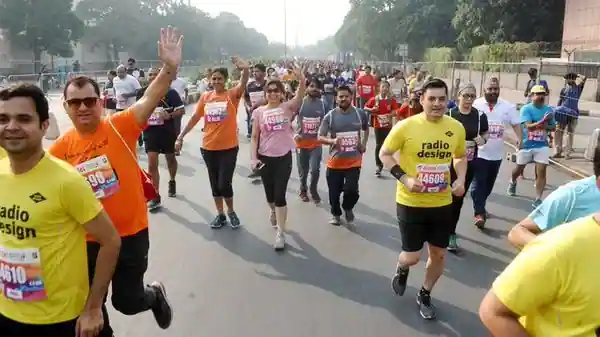 India's top runners hope to qualify for Hangzhou Asiad from Apollo Tyres New Delhi Marathon
New Delhi Marathon will be held in the Capital on February 26, 2023 (Sunday), with India's top runners hoping to qualify from here for the Hangzhou Asian Games later this year.
Organised under the aegis of the Athletics Federation of India and Fit India, the iconic run, certified as the National Marathon, will start and finish at the Jawaharlal Nehru Stadium. Set in the beautiful Delhi Winter season, the route will cover key landmarks in the heart of the city, including Humayun's Tomb, Lodhi Garden and Khan Market.
Being an inclusive Run, the event will also see differently-abled people go the distance along with the rest of the runners.
Organised by NEB Sports, as many as 16,000 participants will be competing in the live event of the Apollo Tyres New Delhi Marathon, making it one of the biggest sporting turnouts in the country. In addition, over 50,000 others will also be running in the virtual marathon from different parts of the world over five days, starting from Feb 21, 2023.
The runners will be participating across the four categories of Full Marathon, Half Marathon, 10K and 5K.
About 25 vision-impaired athletes with guide runners as part of Guide Runners India team, led by accomplished international para athletes Ankur Dhama (Arjuna Awardee) and Ramanjee (paralympic medalist), will be participating in the 10k category. Guide Runners India team enables knowledge sharing for Persons With Disabilities on fitness training and athletics and provides mentoring support to athletes for national and international events.
Another team of differently abled participants from The Challenging Ones, led by Kargil Veteran and Amputee Athlete Maj. DP Singh, will also be participating in this edition. (https://tcothetrust.com/home-page)
"We are happy to see the National Marathon receiving such a good response and are hoping that our athletes continue to bring laurels to the country. It is also heartening to see such a tremendous response for the virtual edition of this event," Mr. Adille Sumariwalla, President of the Athetics Federation of India, said.
"The response from the running community has been wonderful for the Apollo Tyres New Delhi Marathon. The Covid-19 pandemic had made it difficult to organise live sports events in the last couple of years. Now that they are being organised it is very encouraging to see the tremendous positivity and enthusiasm among runners, not only in Delhi but across the country. A huge number have already signed up for both the live and virtual events," gushed Satish Sharma, President, Asia Pacific, Middle East & Africa (APMEA), Apollo Tyres Ltd.
Race Director Nagaraj Adiga mentioned, "It is a privilege to be associated with a reputed brand like Apollo Tyres. With their support, I am confident that we will deliver a world-class experience to the participants."
Over 50 corporate teams and 200 running groups have signed up for this event. It is heartening to see corporates encouraging fitness amongst their team members.