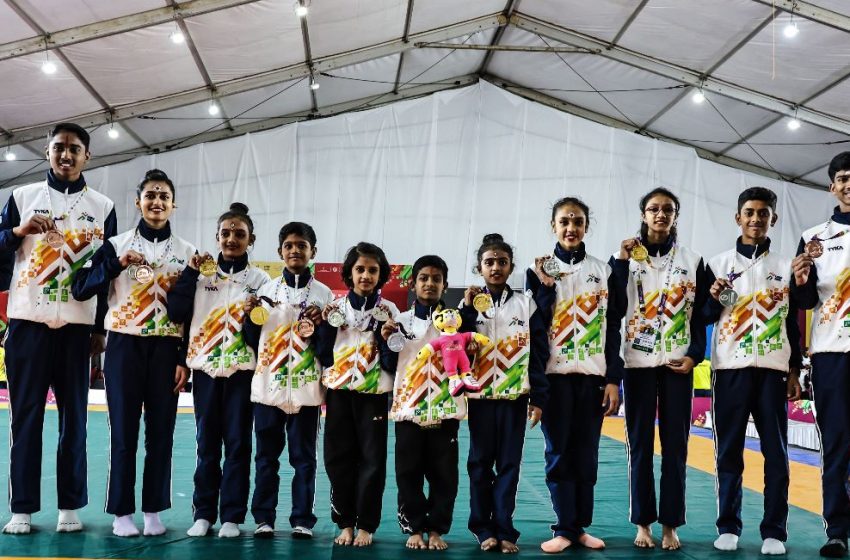 India Youth Games 2022 MP Day 4 Round Up – ​Hosts win four more golds even as Maharashtra nose ahead at the Khelo India Youth Games 2022 Madhya Pradesh
Hosts Madhya Pradesh (M.P) extended their golden run at the Khelo India Youth Games 2022 Madhya Pradesh (KIYG2022MP), with four more golds on day four, to add to the four they had won on day three and remain among the top two in the medal standings. The story of the day however was the surge of national sporting superpowers Maharashtra, two time winners of KIYG, on a day when they amassed a total of seven gold, five silver and six bronze medals to rise to the top of the medal tally with eight gold, six silver and seven bronze medals. That made them pip the hosts, who had an equal number of golds but only three silvers.
Hosts continue fine run
Jabalpur girl Gautami Bhanot, all of 16, who had won a silver and bronze for India at the Asian Airgun Championships in Korea last year and recently also did well in the national selection trials, was among their four gold medallists, winning the Girls 10m Air Rifle competition at Bhopal's M.P. Shooting Academy range, defeating Maharashtra's Isha Anil Taksale 16-14 in the gold medal clash.
Among M.P's other gold medallists were Satyarth Patel who won the Boys 10m Air Rifle competition and in Kayaking & Canoeing, Oinam Binita Chanu delivered two golds, winning the Girls K-1 500m herself and before that partnering Astha Dangi to win the Girls K-2 500m race. In-fact in the Girls K-1 race there was rare dead-heat and a gold medal each were awarded to Oinam and Odisha's Pukhrambam Roji Devi respectively. Thanks to their efforts, M.P now leads the watersports charts with six gold and three silver medals.
Maharashtra nose ahead with seven-gold day
Maharashtra's golds came in Cycling and Yogasana where they literally swept the competitions. They won a total of 12 medals including four of each colour in Yogasana and four, including three gold in the Cycling Velodrome in Delhi. The other two, a silver and a bronze came in Shooting, where the hosts, through Satyarth Patel and Gautami Bhanot, won two out of the three golds on offer. Haryana's Sameer, a junior silver medallist for India at the world championships, won the other leading a 1-2 Haryana finish in the Boys 25m Rapid Fire Pistol Olympic event.
The other story of the day came from the Upper Lake area of Bhopal as Odisha piped the hosts, picking up three of the five golds on offer and a total of five medals from Kayaking and Canoeing to rise to third on the medal tally ahead of another sporting power Haryana who have two golds, three silver and a bronze in their kitty for fourth place so far.
Top performances
Besides double gold medallist Oinam Chanu, among the top performers of the day were the likes of the talented Devika Sihag of Haryana in Girls badminton, who made it to two finals. At the M.P. Badminton Academy in Gwalior, she beat Kerala's Pavithra Naveen 21-5, 21-9 to sail through to the singles final and also made the Girls doubles final with Ridhi Kaur Toor. In the singles she clashes with the 14-year old youngest badminton athletes of the Games, Naishaa Kaur Bhatoye, 21-11, 21-12 winner over Andhra shuttler Gargi. Punjab's Abhinav Thakur, who shocked top-seed Bharat Raghav of Haryana, and Telengana's K. Lokesh Reddy will clash in the Boys final.
Final lineups drawn for many sports
Day four also saw final lineups drawn for many sports including that of Volleyball, Table Tennis, Archery and Kho Kho.
At the SAI Indoor Hall in Bhopal, Haryana and Gujarat and Tamil Nadu (TN) and West Bengal (WB), will clash in the Boys and Girls finals respectively. The Haryana boys played out of their skins to defeat Tamil Nadu 3-0 (25-15, 28-26, 25-14) in straight games. In-fact, all the three semis saw 3-0 results with Gujarat defeating Uttar Pradesh (UP) in the other Boys semi and TN and WB overcoming the challenge of Kerala and Haryana respectively in the Girls semis.
In Table Tennis being played at the Abhay Prashal in Indore, Delhi's Lakshita Narang brought about the downfall of Yashaswini Ghorpade of Karnataka, inflicting a 4-0 (11-7, 11-9, 11-6, 11-7) defeat on her to storm into the Girls final. She meets Maharashtra's Taneesha Kotecha, who beat Haryana's Prithoka Chakraborti in the first semis in a tighter 4-3 contest. In the Boys final, UP's Divyansh Srivastava will clash with WB's Ankur Bhattacharjee.
In Archery, being played at the Ranital Sports complex in Jabalpur, there was more good news for the hosts as they made the final of the Mixed Recurve competition. The M.P team will also fight for bronze in the Compound Mix Team competition on Friday against Delhi. In the other competitions, Rampal Choudhary of Rajasthan and Juyel Sarkar of West Bengal will fight for gold in the Recurve Boys, while the Recurve Girls final will be an all Haryana affair between Ridhi and Bhajan Kaur. In the Compound Girls and Mixed Team events, Maharashtra and Rajasthan will fight for gold while in the Compound Boys event Thirumuru Ganesh Mani Ratnam of Andhra Pradesh and Kushal Dalal of Haryana qualified for the gold medal match.
In Kho Kho, also being played at the Ranital Sports complex, Delhi and Maharashtra made the finals in the Boys category while the latter state also reached Girls final and will clash with Odisha in the same.
Group Matches
Group matches also continued in Basketball in Indore and in Gatka, where the Soti competitions began in the District Sports Complex in Mandla. Football group games also took place in Indore and Balaghat. There were also a total of 60 Boxing bouts, 30 each for Boys and Girls, that took place at the T.T. Nagar stadium in Bhopal and semi-final lineups have now been firmed up.