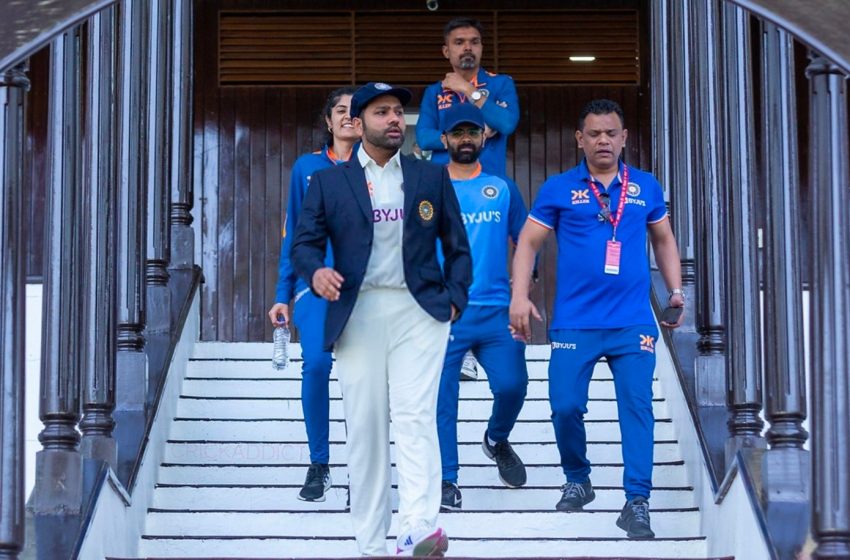 Rohit Sharma/BCCI
ICC Review: 'Stunning' Rohit conjures memories of 'Viru' for Shastri
Former India coach Ravi Shastri believes India's fate in the ongoing Test series against Australia can be dictated by captain Rohit Sharma's form.
Rohit came into this series having played only two Tests in the last year, but has set the tone for India after a near-perfect opening day for India during which Australia were bundled out for 177 before Rohit's 56* helped India reach 100/1 by stumps.
Shastri, speaking with host Sanjana Ganesan on the latest episode of The ICC Review, said despite talk surrounding other high-profile players it's Rohit who will be able to "comfort" the dressing room.
Ravi Shastri on Rohit Sharma's form dictating the series | ICC Review
"His record in India as an opening batsman is stunning," Shastri told The ICC Review before the first Test had even got underway.
"He will dictate terms very early on. I mentioned Ashwin, there'll be a lot of talk of Kohli, there'll be a lot of talk of Pujara. But I think Rohit at the top, if he can set the tone, that'll comfort the dressing room big time.
"But his form can dictate terms in the series, not just because of the runs he'll get, but the pace at which he gets it."
It is exactly what Rohit did in the final session against the Australian attack. His 56* came off just 69 deliveries, his knock comprising nine fours and a six. It was all in stark contrast to the Australia innings, with the visiting batters struggling to cope with the turn.
"If Rohit stays there, he gets it quickly. He won't allow any bowler to settle," said Shastri. "Runs will come much like Viru at his best.
"When Virender Sehwag was in form, he made the job for the middle order a lot easier by really taking it to the opposition early on. His role will be that."
Rohit, who took over as India's Test captain succeeding Virat Kohli last year, can strengthen his captaincy credentials further should he be able to lead India past Australia in the ongoing Border-Gavaskar series, and then to success at the ICC World Test Championship Final in June. 
But Shastri does not see it that way.
"I don't think it's a test of his captaincy," Shastri said, when asked about Rohit's credentials as Test captain.
"He's past that. He's a very good captain and he is a smart operator and let's not forget his record in India as an opening batsman is stunning.