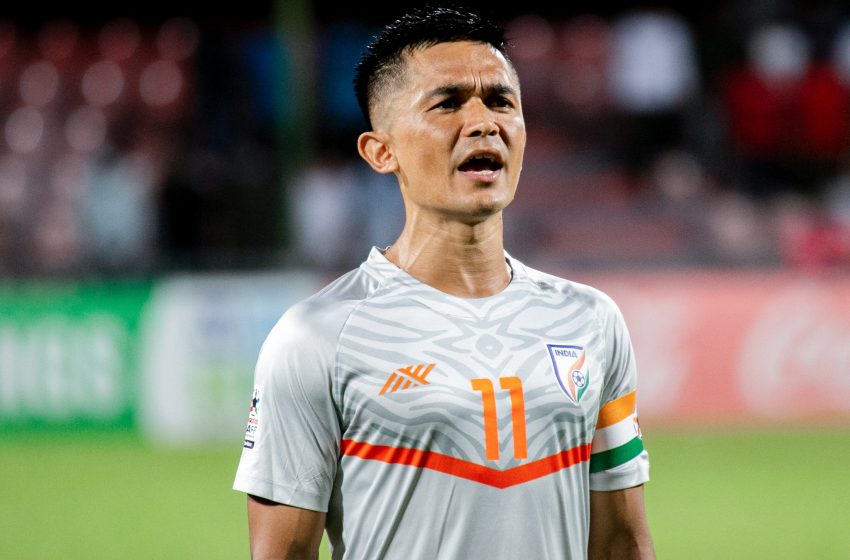 I don't play football to prove a point
Bengaluru FC took a big step towards the Hero Indian Super League (ISL) final with a 1-0 win over Mumbai City FC in the first leg of the semi-final at the Mumbai Football Arena on Tuesday and as it has so often been the case in the past, Sunil Chhetri was the difference-maker for the Blues.
Having started on the bench again, the captain came on to change the flow of the game in Bengaluru FC's favour and quite fittingly scored the winning goal in the 79th minute to hand his side an advantage going into the home leg in Bengaluru on Sunday.
He scored his seventh goal in the Hero ISL knockout matches which is the most by any player in the league's history and also equalled teammate Roy Krishna's record of most goal involvements in the Hero ISL knockout games.
Chhetri spoke to indiansuperleague.com after the game as he touched upon how Bengaluru FC executed their gameplan successfully, his role from the bench and the work that needs to be done for Bengaluru FC to reach their third Hero ISL final.
Here are the excerpts from the interview:
The game changed after you came on. What was your assessment of the first half watching from the bench and what did you feel you needed to add to the team when you came on?
It was difficult in the first half to get attacks going because Mumbai City FC are a good side. Generally, we are a bit defensive and a team that plays on the counter-attacks. So, it becomes a little bit more difficult when you play teams like Mumbai City FC as they can keep the ball for fun. All of them are very comfortable with the ball. So, we knew we are not going to get the ball.
One of the plans was to keep it 0-0 for as long as possible. They were playing at home and the onus was on them. It is a two-legged semi-final and what you don't want is to lose the tie in the first leg. Mumbai can do that to teams. They have done it this season. We were wary of that and we know the kind of powerful players they have got, so we had to defend well even if sometimes it's not very pretty, it doesn't matter. We knew that as long as the game goes with the scoreline being 0-0, the team that has the possession becomes jittery.
So that was perfect from us. Then in the last 20 minutes, we could have scored 2-3 goals. That's how hard work pays off if you are resilient and defend well. 
You are on a great run of form which seemed unlikely at a point in the season. At what point on or off the pitch did you feel your season turned around?
On the pitch, I think the turning point was the NorthEast United FC game after which we started doing well.
We have top characters in our dressing room like Sandesh Jhingan, Gurpreet Singh Sandhu, Roy Krishna and Aleksandar Jovanovic for whom loss is not an option and what helped us was that during the time when nothing was looking bright for us, we had these guys who kept getting mad at everyone. One day Jhingan would get angry, and the next day Krishna would. There were controlled fights in training, and controlled aggression, the frustration came out in a controlled manner. So, the time that we lost the race to qualify for the playoffs and it was time to give up never came for us.
We knew that there is quality in the team. We have top players and top athletes so it was just about it all coming together. Once we did that, we felt confident about every game. That's where we are.
But nothing has been won yet. We know the kind of team Mumbai City FC are. They have shown it all year. So, we have to go back, recover and get ready for a fight because we know there is going to be a fight.
It must be difficult for you to not start games given the career that you have had, so is there a hunger or desire that you have to prove a point?
I don't play to prove a point. Then the whole motive is lost. I come and I just want to enjoy the game. If I have to prove something, I'll probably retire. If after 22 years, I have to get up and prove a point then my mind and heart are not in the right place. The day I stop enjoying, I won't be here. There's no point.
A lot of kids play to play for the national team, for money, for fame, for trophies. It's not that I don't love it, but these are not motivating factors for me. I enjoy it because I want to be in the dressing room, I enjoy it because these are the nights you want to be part of.
It is frustrating because I never want to sit out be it anything — a badminton game, a table tennis game, 5-a-side or ludo. But then I understood that sulking over it is not going to help me. I get paid to go to training and apply myself properly. I am the first one that people look up to. There's a lot of onus on me so I can't show frustration, I can't show anything inside me that is negative.
I go out and I'm the hardest worker. There aren't many who work harder than me. I am not trying to demean anyone but that's the way it is. The day I don't feel like it, I won't stay half-heartedly. If I'm there, I'm all in. Sometimes you have to persevere and wait for your chances. 
Mumbai City FC are known to come back hard, so will that mean you don't change your approach much for the second leg despite the advantage?
I hope we prove your first statement wrong. I hope for at least one more game, they are not known for their comeback. We know what kind of a team they are. They have shown it. We see the players they have, they have a lot of talent. We have the utmost respect for that. It's not for fun that they have won the league the way they have. But when the game starts, it's a war and we make sure that they don't get it easy.
They are good but they got to be really at their best to get out something from us. We have a slight advantage now and we are at Kanteerava and we back ourselves