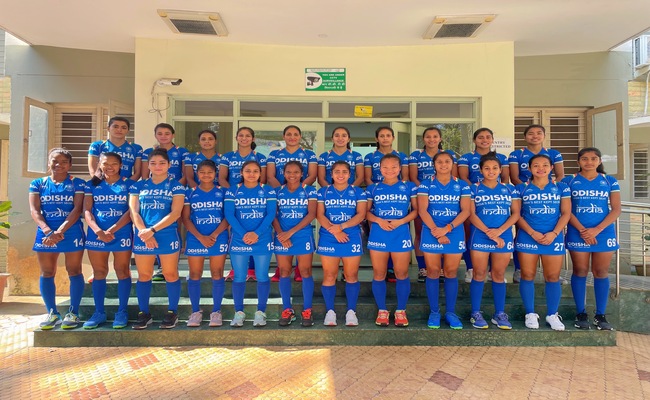 Hockey India names 22-member Indian Women's Hockey Team for Tour of South Africa 2023
Hockey India on Thursday announced the Indian Women's Hockey Team squad for the upcoming tour of South Africa, set to begin on January 16th, 2023 in Cape Town. On the tour, India, who recently won the inaugural edition of the FIH Women's Nations Cup 2022 in Valencia, will play four matches against South Africa, and three matches against the Netherlands between 16th January 2023 to 28th January 2023.
Goalkeeper Savita has been named the Captain for the tournament with experienced campaigner Navneet Kaur as the Vice-Captain of the team. While veteran forward Rani will be making a return to the squad since FIH Women's Hockey Pro League 2021/22 match against Belgium, Vaishnavi Vitthal Phalke, who led the Indian Women's Junior Team at the Uniphar U23 5 Nations Tournament 2022 in May, has received her maiden call for the Senior team.
Also Read : https://www.sportstrumpet.com/2022-mens-national-boxing-championships-shiva-thapa-and-manish-kaushik-storm-into-semis-to-set-up-a-mouth-watering-clash/
The team includes Bichu Devi Kharibam in the squad along with Savita as goalkeepers while Nikki Pradhan, Ishika Chaudhary, Udita, and Gurjit Kaur have been named as the defenders in the team.
Apart from Vaishnavi Vitthal Phalke, the midfield will feature Nisha, Salima Tete, Sushila Chanu, Monika, Neha, Sonika, and Baljeet Kaur, who will be returning to the squad since making her Senior debut in the FIH Women's Hockey Pro League 2021/22 match against Belgium.
Apart from Rani and Navneet Kaur, the forward line includes the experienced Vandana Katariya, Lalremsiami, Sangita Kumari, Beauty Dungdung, Reena Khokhar, and Sharmila Devi.
Speaking on the tour, Indian Women's Hockey Team Chief Coach Janneke Schopman said. "The South Africa tour is a brilliant opportunity for us to build on our performance of the Nations Cup. Playing both South Africa as well as The Netherlands on this tour provides us with everything we need to learn about ourselves come the Asian Games."
"Playing the World number 1 Netherlands will most likely expose our vulnerabilities and will also show where we are with our performance and growth. Playing South Africa, where we most likely will have more of the ball, will give us the opportunity to improve in ball possession areas," she added.
Indian Women's Hockey Team squad:
Goalkeepers:
1. Savita (Captain)
2. Bichu Devi Kharibam
Defenders:
3. Nikki Pradhan
4. Udita
5. Ishika Chaudhary
6. Gurjit Kaur
Midfielders:
7. Vaishnavi Vitthal Phalke
8. P. Sushila Chanu
9. Nisha
10. Salima Tete
11. Monika
12. Neha
13. Sonika
14. Baljeet Kaur
Forward:
15. Lalremsiami
16. Navneet Kaur (Vice-Captain)
17. Vandana Katariya
18. Sangita Kumari
19. Beauty Dungdung
20. Rani
21. Reena Khokhar
22. Sharmila Devi
Schedule of the Indian Women's Hockey Team on Tour of South Africa (All matches will begin at 1830 hrs IST):
16th January 2023: South Africa vs India
17th January 2023: South Africa vs India
19th January 2023: South Africa vs India
21st January 2023: South Africa vs India
22nd January 2023: Netherlands vs India
27th January 2023: Netherlands vs India
28th January 2023: Netherlands vs India