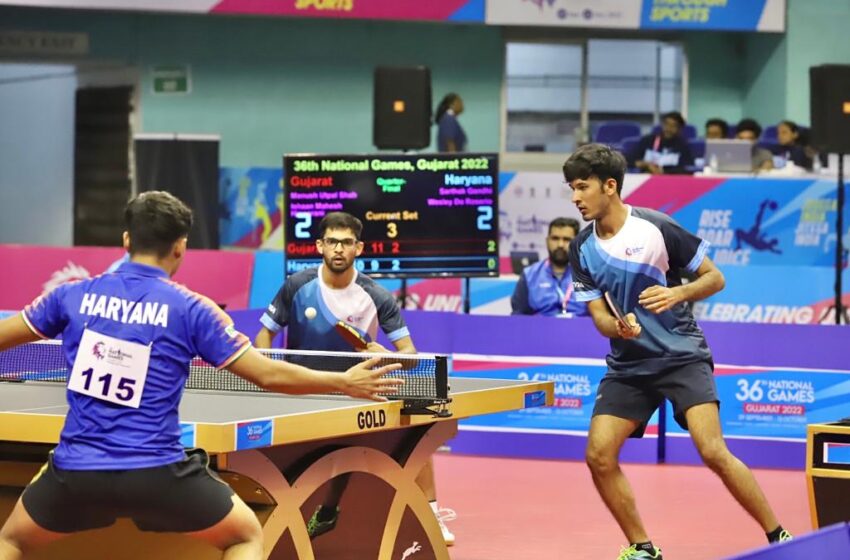 36th National Games
'Forced to pick TT over cricket after injury' : Manush shah
At the 36th National Games in Gujarat, Manush Shah has been playing in the shadows of his two more illustrious teammates Harmeet Desai and Manan Thakkar.
But ask anyone on the table tennis circuit and they would vouch that the southpaw is as accomplished a paddler as anyone on the circuit and has a variety in his stroke play.
He proved just that on Thursday by reaching the semi-finals of all the three individual events, thereby ensuring four medals.
We caught up with Manush soon after he confirmed medals in mixed doubles and men's doubles to go with the men's team gold.
Excerpts:
Q: How is the feeling of playing in the National Games at home?
It is a very proud feeling for me as I'm participating in the National games hosted by Gujarat. I won a Gold in one event which is the first out of the four events I have participated in. I am also playing singles, doubles and mixed doubles here. Initially, it was a little hectic for me as I had back-to-back matches but I have adjusted to the conditions now. I have reached the semi-finals of the two doubles events and hope to win gold medal in both the paired events. I am also part of the Indian team which is headed to China next week for world team championships.
Q: Tell us a bit about your table tennis journey. How you started playing the sport and the road till here.
When I was in 2nd standard, I fell on an iron rod and damaged one of my kidneys. I loved playing cricket before. But after my injury, the doctors told me not to play any outdoor sport like cricket, football, hockey, athletics, etc. We went on a family trip after I recovered and there my father and I started playing table tennis for fun. It was there that my father told me that if I'm interested, I can start playing table tennis. After returning to Baroda, I enrolled in an academy and after 8 months I participated in my first district level tournament.
Q: What is your parents' expectation from you and your game?
Every parent wants good for their child and wants them to succeed. My parents also want me to win medals for the state as well as for the country.
Q: How is the government supporting you in this journey?
Since the beginning of my career, the government has been very supportive. I am part of the State government's Shaktidoot Scheme under which they provide financial aid for the players. Also, the central government had started the TOPS scheme under which they provide financial, technical, and health-related support.
Q: You are a die-hard fan of Virat Kohli, so have you got the chance to meet Kohli? And how was your experience?
I am supported by the Virat Kohli foundation, Fortunately, I got the chance to interact personally with him. We had a very fruitful conversation, I find similarities between us as a player, as we both are aggressive while playing. He guided me on how he deals with his aggression while being on the field which helped me a lot as a player.