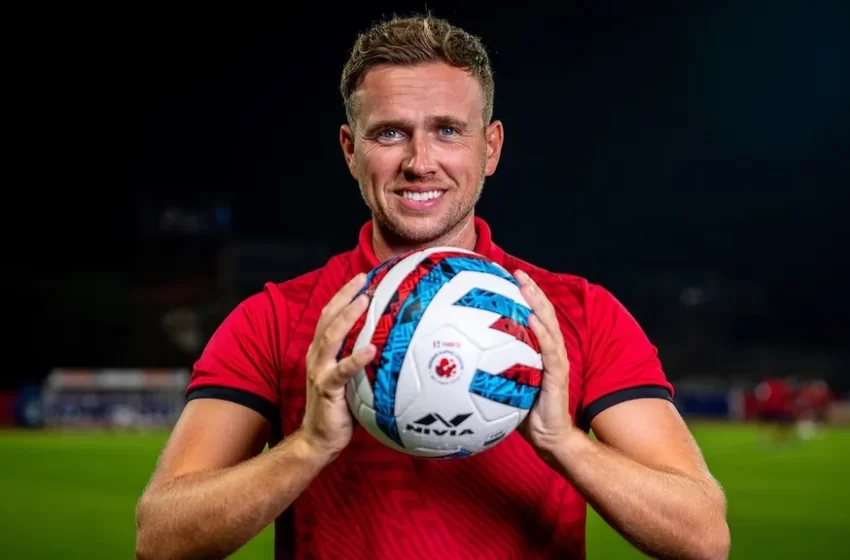 IMAGE ISL
Focussed On Playing My Natural Game
Jamshedpur FC's Greg Stewart has arguably been the best player in the Hero Indian Super League (ISL) this season.
He has the most goal contributions (9) in the Hero ISL this season and everytime he has got on the ball for Jamshedpur FC, he has made things happen.
The first player to score a hat-trick this season, Stewart has taken to Hero ISL as fish takes to water. His mazy skills, lethal left-foot and incredible energy has caught the eye of Indian football fans.
However, his exploits in the Hero ISL have crossed the Indian boundaries with his stunning free-kick against Kerala Blasters FC is already being touted as a potential Puskas Award contender.
Stewart has added a new dimension to the Jamshedpur FC attack this season and he could be the reason that Owen Coyle's men reach the semi-finals for the first time in their history.
The Scottish forward sat down for an exclusive interview with indiansuperleague.com and spoke about his early impressions of the Hero ISL, his quick start to life in Indian football, Jamshedpur FC's bright young
What prompted you to come to India and join the Hero ISL? Had you heard of it before?
I had a chat with the manager, Owen Coyle, and he told me about the Indian football scene currently, of how it's growing with the advent of the Hero ISL. We had a long chat about playing for Jamshedpur in Hero ISL and it seemed like something I would be keen to do.
Yes, I had heard of it in bits and pieces before but with my focus in playing football at the clubs I was at, my interests were invested elsewhere, so never really paid attention.
You have made a flying start in the Hero ISL. Many foreign players find it very hard to adapt to India. What has made it so easy for you?
I have focused on playing my natural game. The coach has given me a job to do, and I am just trying to fulfil that and even try to do more whenever called upon to play. We go into each match to win three points and stick to our gameplan with adjustments as and when needed.
In terms of adaptation, yes, it's quite hot out here compared to the weather I am used to back in Scotland. But it was just a minor hurdle. The six weeks of pre-season helped adjust, I guess.
What are your impressions of the Hero ISL?
It's a competitive league with good teams out there and there's some quality players here. The young Indian players especially come with a lot of potential, and Jamshedpur FC has so many of them. If I am not wrong, we are one of the 2-3 clubs to have played our U-23 players the most minutes and we are fighting for the top spots, so that shows you the potential the league has to grow.
From the Scottish league to the Hero ISL. How does the challenge of Hero ISL compare to the Scottish league?
Obviously, the Scottish League has a couple of teams like Rangers and Celtic who also regularly play the toughest competition in the world – the Champions League. So that's the level we are talking about in the Scottish Premiership. But India is also quite competitive. As I said, my chat with the gaffer was the point which convinced me to try and explore this new chapter in my life.
Obviously, there are some top foreign players at Jamshedpur FC which would be making the competition for places very tough. Does that keep you humble?
Oh, we have quality players here, not just foreigners but Indian players as well. But talking about the foreigners, of course we have top forward Jordan (Murray). Alex Lima has shown how well he can control midfield and skipper Eli (Sabia) are so important to the team to maintain discipline at the back.
Yes, there is competition for places, but in the end it's "WE" and not "ME" that makes a team. It's not a game of individuals. We play as a team and whoever is selected to play by the gaffer, gives their all on the pitch.
Jamshedpur FC have some talented Indian players in Boris Singh, Komal Thatal, Jitendra Singh etc. What's your impression of them and what are your discussions with them like?
They are so eager to play and win all the time. And so talented as well. I think they have a big future ahead of them. On and off the field we keep speaking to each other to improve as a team and also so that they can improve as individually as players as well.
How much has Owen Coyle's presence been key to your performances in the Hero ISL?
The Gaffer is quite an influence on not just me but the entire squad I think. You can make out from how much our team runs on the pitch, the amount of effort that is put in by everybody. For any player, it's important to have a manager who keeps pushing to get the best out of you.
The free-kick you scored in the last match is already being touted as the goal of the season. It was quite hard to execute. What was going through your mind then?
I had done my homework on their goalkeeper. I noticed that he takes chances from free-kicks. He stands quite far from his front post and at that moment I was just thinking of trying to find the corner and luckily enough it went in the top corner for myself. I was hoping for a sweet strike and I got exactly that. Will that be the goal of the season? We will see. The league has some amazing players who can do amazing things.
What are your targets this season? Making the top four or winning the League winners' shield?
The first target is to secure the top four spot at the earliest. And then we can think of going further ahead from there. All teams are playing to get the top spot and it's not easy. Eight gameweeks in and the team on top of the league averages two points per game. It shows how competitive the league is and fine margins will decide who will finish in the top spots.