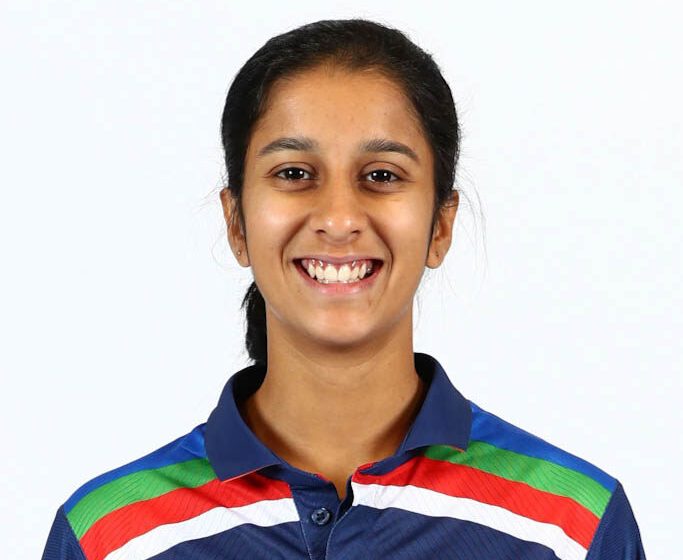 BRISBANE, AUSTRALIA - SEPTEMBER 15: Jemimah Rodrigues poses during the India Women's Cricket Team headshots on September 15, 2021 in Brisbane, Australia. (Photo by Chris Hyde/Getty Images for Cricket Australia)
Delhi Capitals assemble a strong squad for the inaugural Women's Premier League 2023 
Delhi Capitals celebrated a successful day at the inaugural Women's Premier League 2023 Player Auction held in Mumbai. The Delhi-based franchise have assembled a solid squad with a mix of young and experienced players.
After acquiring the likes of star Indian players Jemimah Rodrigues and Shafali Verma along with Australia captain Meg Lanning, Delhi Capitals bought talented young players in the second half of the WPL 2023 Player Auction.
Delhi Capitals' Chairman & Co-owner Parth Jindal expressed that he is very happy and excited with the make-up of the Delhi Capitals squad for the inaugural edition of the WPL. "We had a very good auction, with the right blend of young and experienced players in the squad. I am very excited about the Indian players that we have managed to pick. And, also excited to get the most renowned foreign players into the squad," he stated.
He further added, "At the Delhi Capitals, we always believe in backing youngsters, and having a good combination of experienced players with the young players. I think we've been able to do that in the auction today. Overall, I am very happy and excited about the squad. It's only about two and half weeks so I can't wait for the WPL to get going."
Delhi Capitals' Head Coach Jonathan Batty said, "A fantastic start with those first three sets done. We had a slow start, but the owner did amazingly well, he held his nerve. We've signed fantastic players including Meg, Shafali and Jemimah, so really happy about the squad."

Expressing her excitement, India batter Jemimah Rodrigues said, "I am super excited to be a part of this family. Looking forward all the adventures that we going to have. What a team we have! What an auction! What a day for the Women's team in general! More than anything else I am excited to receive the love and support from DC fans because this is what makes us feel so special. Thank you so much and can't wait!"
The Delhi-based franchise began the second half proceedings by acquiring England all-rounder Alice Capsey for INR 75 lakh and went on to purchase exciting overseas players Tara Norris (10 lakh), Laura Harris (45 lakh), Jess Jonassen (INR 50 lakh) along with a mix of capped and uncapped Indian players – Jasia Akhter (INR 20 lakh), Minnu Mani (INR 30 lakh), Taniya Bhatia (INR 30 lakh), Poonam Yadav (INR 30 lakh), Sneha Deepthi (INR 30 lakh), Arundhati Reddy (INR 30 lakh) and Aparna Mondal (INR 10 lakh).

Delhi Capitals' full squad for WPL 2023:

PlayerCountryRolePriceJemimah RodriguesIndiaBatterINR 2.2 croreShafali VermaIndiaBatterINR 2 croreRadha YadavIndiaAll-rounderINR 40 lakhShikha PandeyIndiaAll-rounderINR 60 lakhTitas SadhuIndiaBowlerINR 25 lakhJasia AkhterIndiaBatterINR 20 lakhMinnu ManiIndiaAll-rounderINR 30 lakhTaniya BhatiaIndiaWicketkeeper-BatterINR 30 lakhPoonam YadavIndiaBowlerINR 30 lakhSneha DeepthiIndiaBatterINR 30 lakhArundhati ReddyIndiaAll-rounderINR 30 lakhAparna MondalIndiaWicketkeeper-BatterINR 10 lakhMeg LanningAustraliaBatterINR 1.1 croreMarizanne KappSouth AfricaAll-rounderINR 1.5 croreAlice CapseyEnglandAll-rounderINR 75 lakhTara NorrisUnited StatesBowlerINR 10 lakhLaura HarrisAustraliaBatterINR 45 lakhJess JonassenAustraliaAll-rounderINR 50 lak