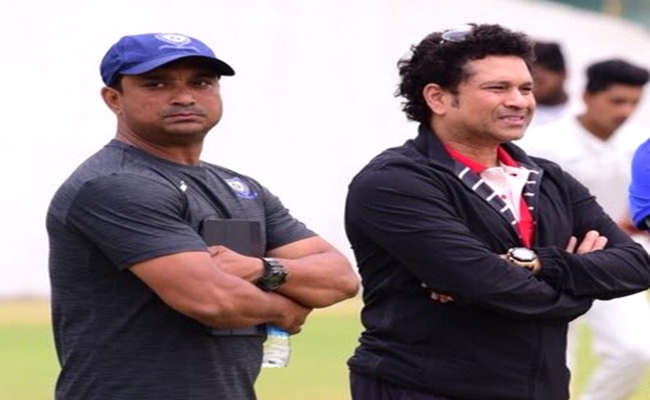 Atul Gaikwad becomes first Indian to get elite level 4 coaching certification from England Cricket Board
Renowned cricket coach Atul Gaikwad became the first-ever Indian to be certified as specialist Level 4 Elite Coach through England and Wales Cricket Board's (ECB) flagship programme.
The Pune-resident is currently the global head coach of Sachin Tendulkar's SRT10 Global Academy. He is now the most qualified coach at the Board of Control for Cricket in India (BCCI).
Gaikwad, who holds PhD in study of illegal bowling action from the Pune University, had earlier secured Level 3 coaching certifications from BCCI and Cricket Australia in 2004 and 2008 respectively, becoming the only Indian to be certified from BCCI, Cricket Australia and ECB.
He completed the Level 4 coaching certification alongside some of the top names from the cricketing world such as England's Jonathan Trott and Ajmal Shahzad, Yasir Arafat of Pakistan and Zimbabwe's Neil Johnson, working under the tutelage of the best in their fields like Gary Kirsten, Mark Ramprakash, Paul Shaw and Glen Chappel.
"I am delighted to reach this milestone and become the only Indian to complete the Elite Level 4 coaching certification. I am looking forward to using my expertise and applying the learnings while working with an international team and also developing SRT10 Global Academy," elated Gaikwad said.
Besides working as a personal coach with top Indian cricketers including Manish Pandey, Bhuvneshwar Kumar and Mithali Raj during his illustrious 34-year-long coaching career so far, Gaikwad also helped many former international cricketers flourish in coaching courses of level 1, 2 & 3.
He also served as Assistant Head of Education, BCCI from 2019 to 2021, specialist batting and bowling coach at the National Cricket Academy's camps and Director of Coaching with Sikkim in from 2021-22.
He is also the head coach of The Bishop's School in Pune and will be seen as one of the coaches of Puneri Bappa in the upcoming Maharashtra Premier League.