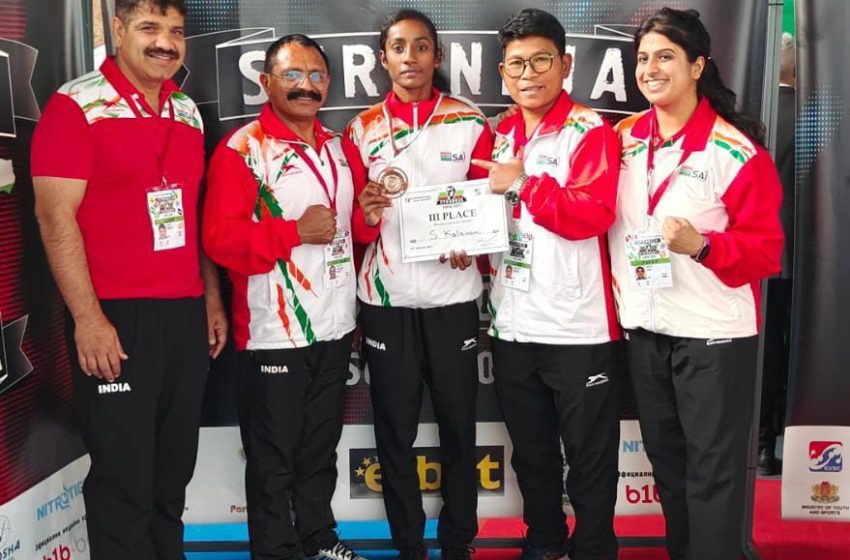 Anamika, Anupama clinch silver medals at 74th Strandja Memorial International Boxing Tournament
Anamika, Anupama clinch silver medals at 74th Strandja Memorial International Boxing Tournament
Sofia (Bulgaria), February 26, 2023: India's women pugilists Anamika and Anupama clinched silver medals at the ongoing 74th Strandja Memorial International Boxing Tournament in Sofia, Bulgaria on Sunday.
Indian boxers have secured eight medals in the tournament with only Govind Kumar Sahani left to play the final in the men's 48kg category against the 2023 Asian U-22 Championships silver medallist Shodiyorjon Melikuziev of Uzbekistan.
Anamika went down 1-4 against Hu Meiyi of China in the final of the women's Light Flyweight (50kg) division. The Indian boxer started the bout on a positive note with a flurry of punches, but Meiyi was strong with her defence and never missed any opportunity to counterattack.
The second round also saw the Chinese pugilist making calculative moves as she gathered points at regular intervals which also helped her in the last round as she went into defensive mode on many occasions to register a victory despite Anamika's scintillating efforts in the last three minutes.
Anupama (81kg) lost against Emma-sue Greentree of Australia in the final by a unanimous decision. The crowd witnessed an explosive start as both the boxers tried to earn points early in the match. The Indian boxer landed some accurate punches in the first few minutes of the bout, but Greentree quickly regained her composure to end the first round on a high.
The Australian pugilist looked in her element in the second round and continued the good momentum to take the lead. She took an aggressive approach in the final minutes as well as she never gave any chance of a comeback to Anupama.
On the other hand, three female pugilists S Kalaivani (48kg), Shruti Yadav (70kg) and Monika (+81kg) claimed bronze medals in the tournament. Bishwamitra Chongtham (51kg) and the 2021 World Youth champion Sachin (54kg) also ended their campaign with bronze medals.
The prestigious tournament is witnessing the participation of 398 pugilists, including 256 men and 142 women which is the highest ever in the competition's history.