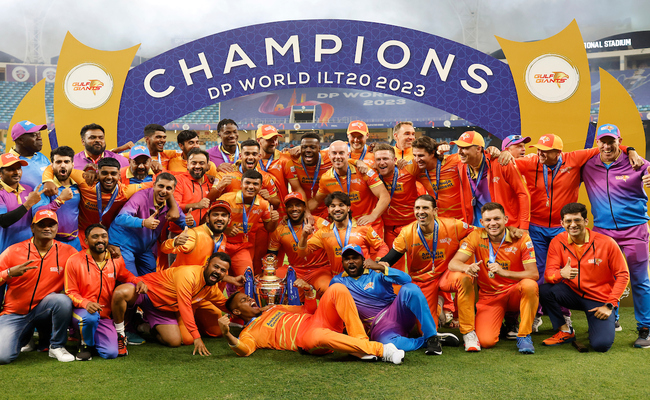 Gulf Giants players with the winning trophy of the Final of the DP World International League T20 between the Desert Vipers and the Gulf Giants held at the Dubai International Stadium, Dubai, United Arab Emirates on the 12th February, 2023. Photo by Deepak Malik/CREIMAS RESTRICTED TO EDITORIAL USE
Adani Gulf Giants claim the coveted championship title of inaugural DP World ILT20 in front of a packed house
Adani Gulf Giants claim the coveted championship title of inaugural DP World ILT20 in front of a packed house
· Adani Gulf Giants defeated Desert Vipers by seven wickets in the DP World ILT20 final in front of a packed stadium
Chris Lynn's stubborn unbeaten 72 backed by Gerhard Erasmus's elegant 30 runs and Shimron Hetmyer's timely and aggressive unbeaten 25 runs helped Adani Gulf Giants emerge as the champions of the inaugural DP World ILT20 beating Desert Vipers by seven wickets in the final at the Dubai International Stadium on Sunday night. In front of a packed stadium, Gulf Giants restricted Desert Vipers to 146 for 8 in 20 overs through Carlos Brathwaite's fine three-wicket spell and then produced an electrifying finish to the first edition of the DP World ILT20.
It was a pulsating chase to the target cheered by a large Sunday crowd, who created an electrifying atmosphere in the stadium. Lynn sparkled under the Ring of Fire through his unconquered 72 runs, which came off 50 balls with nine boundaries and one six. He added 73 runs in 62 balls along with Erasmus, who hit 30 off 33 balls for the third wicket. He then added an unbeaten 50-run partnership off 25 balls with Hetmyer for the fourth wicket. Hetmyer eased Gulf Giants' pressure of chasing through his unbeaten 25 off 13 balls with five boundaries.
Desert Vipers failed to post a big total despite Wanindu Hasaranga's 55 off 27 balls with six boundaries and two sixes. Sam Billings too had chipped in with 31 off 29 balls with three boundaries. The pair had put on 72 runs in 37 balls for the fifth wicket. The chief destroyers of Desert Vipers' innings were Carlos Brathwaite (3 for 19) and Qais Ahmad (2 for 29).
Brief scores:
Gulf Giants bt Desert Vipers by 7 wkts. Desert Vipers 146 for 8 in 20 overs (Sam Billings 31, Wanindu Hasaranga 55, Carlos Brathwaite 3 for 19, Qais Ahmad 2 for 29) Gulf Giants 149 for 3 in 18.4 overs (Chris Lynn 72, Gerhard Erasmus 30, Shimron Hetmyer 25n.o)