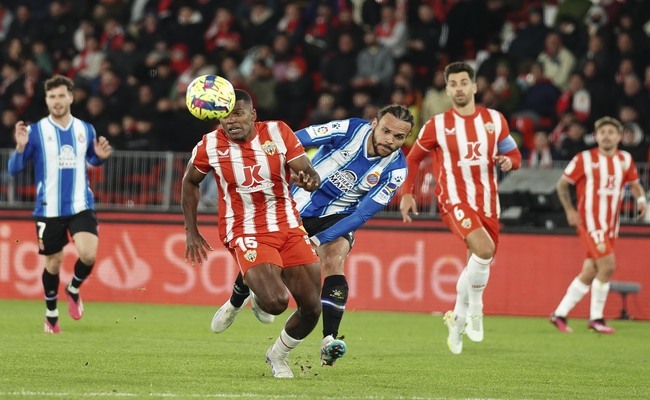 PARTIDO ALMERIA 22/23 ESPANYOL 22/23
What can we expect from LaLiga Santander over the final 11 matchdays?
With just 11 matchdays to go, things are seriously heating up in LaLiga Santander. There are battles for position at practically every level of the standings, including an important race for European qualification and a scramble to avoid relegation that includes many teams. Mathematically, not even the teams in first and last place, those with the largest gaps to their nearest competitors, can take anything for granted yet. The teams in LaLiga Santander are so evenly matched and that means we should expect thrills over this final stretch of the campaign.
The very tight race towards Europe
FC Barcelona, with 71 points, are 12 points clear of Real Madrid, whose 59 points keep them five ahead of Atlético de Madrid. These top three teams in LaLiga Santander boast a significant advantage over the chasing pack, but the fights for fourth place and for the Europa League and Conference League berths are more open than ever.
Real Sociedad (48 points), Real Betis (45 points) and Villarreal CF (44 points) occupy the fourth, fifth and sixth places respectively, the three positions that bring passage to the Champions League, Europa League and Conference League next season. This minimal difference in points between these three teams means that it's possible to suddenly fall out of European football's top competition and end up in the third-tier one, or vice-versa. It's a tight race and that means matches such as Real Betis vs Real Sociedad on Matchday 31 will be must-watch.
Then there is another quite large group of teams who could enter into a fight for seventh place, which could end up offering a ticket for next year's Conference League should the winner of the Copa del Rey already secure European qualification through their position in LaLiga Santander. From Athletic Club, who are currently seventh with 37 points, down to RCD Mallorca, who are four points behind them in 12th, there are several teams ready to take advantage, with Rayo Vallecano, CA Osasuna, RC Celta and Girona FC in this group. All these squads will be ready to pounce if seventh ends up granting access to European competition… while these teams also need to be careful not to fall behind and enter the intense relegation battle.
It might require more points than usual to avoid relegation
Sevilla FC, who are 13th with 31 points, are just six points off the aforementioned seventh place, but they can't yet peer too far up the standings because they're still looking over their shoulders as the Andalusian side are just four points above the relegation zone. They are the first carriage of a long train of relegation-threatened clubs, also made up of Getafe CF, Cádiz CF, Real Valladolid, Valencia CF, RCD Espanyol and UD Almería, all of whom are within four points of each other, with the last two currently inside the relegation places. While bottom-placed Elche CF are further behind, but still in with a mathematical chance of survival as they sit with 13 points, the 18th and 19th positions on the table are too close for comfort for all these teams in this battle to avoid the drop.
Excitingly, there are still many six-pointers coming up between these teams, such as Valencia CF vs Sevilla FC on Matchday 29, Cadiz CF vs Real Valladolid on Matchday 35, Valencia CF vs RCD Espanyol on Matchday 37 or the final matchday clashes like Elche CF vs Cadiz CF, RCD Espanyol vs UD Almeria and Real Valladolid vs Getafe CF.
It's difficult to predict exactly how many points will be required to avoid relegation this season, but it looks like teams will need a higher points tally than in previous years. As such, every remaining matchday is vital, every point must be fought for and every victory deserves celebration in these exciting final few weeks of the LaLiga Santander season.