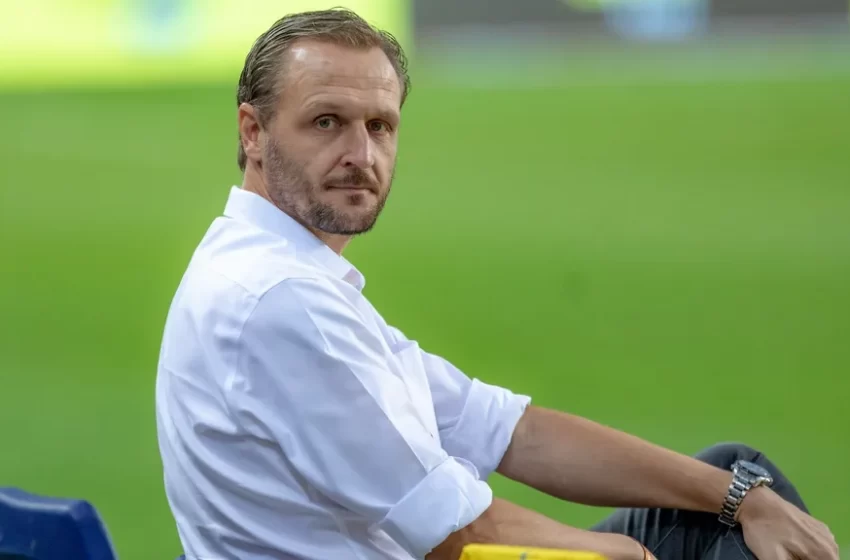 IMAGE/ISL
"We Need To Stay Humble"Vukomanovic
Kerala Blasters FC head coach Ivan Vukomanovic was delighted to have recorded a 2-0 win over Odisha FC in their Hero Indian Super League (ISL) match at the Tilak Maidan Stadium in Vasco, Goa on Wednesday.
Nishu Kumar gave Odisha FC the lead in the 11th minute of the game with a brilliant shot into the top right corner. Harmanjot Khabra doubled the lead with a nice near-post header in the 40th minute of the match. The score-line remained the same as Kerala Blasters FC registered three points.
With this win, Kerala Blasters have climbed up to the top of the table while Odisha FC remains at 8th place. 
Head Coach Vukomanovic addressed the media after the match. Here are excerpts from his post-match press conference:
Two goals were scored by your fullbacks. Does that show the versatility of your team?
Yeah, it shows the versatility of our team. Let's say different things that we possess in our team. Players with quality who can be very dangerous from second lines, players that can infiltrate, players that can be dangerous on set pieces. So l think that step by step we are improving in many different ways. And as a coaching staff, we're very glad and happy. Because when you are evolving in such a competition and we are starting scoring certain goals, then the opponents will be concentrating on your key players and key moments. Then you have to diversify, you have to try to mix things up, you have to try to find the other solution. So
that's what we saw today. I'm very happy for Nishu Kumar in his first game to score such a beautiful goal, even coming back after so long period onto the pitch because he was suffering after his injury and with the ISL format he wasn't playing for a long time. I'm so happy for him, I hope that he will continue building up and becoming even stronger and getting back on the level that he deserves even for our Indian national team. On the other side, Harmanjot Khabra is very dangerous on set pieces. So he scored also nice goals something that we were practicing in our training session, of course as a coaching staff that makes you happy and we are happy and grateful for this win today.
10 games unbeaten now. Are you happy with the way your team has played till now?
Since we started, we never wanted to have a kind of pressure on a team or ourselves because was always saying that football is joy and pleasure, you
must enjoy the pitch. If you don't have pleasure playing together or playing football then something's wrong. Since we started our training program and everything, we wanted to have that joy, positive energy on the pitch, even
if sometimes it's not that easy, because we know when you start building up, it's never easy. A good and strong team that doesn't concede goals. Now when you see these boys enjoying playing nice football, with the combinations, running pressing together. We want that positive energy to stay with us. If we speak about the unbeaten run, we are not busy with the statistics because we cannot think in that way, we have to think about building up a good team with many different things like we have seen today and in the previous games. Hoping for the best by the end. We hope that it will continue like that.
What do you think about the competitiveness of the league as no team hsas remained at the top for very long?
Well, again, it's good for the league. I will repeat something that we've said a long time ago. We as a team, are coming from far away. And if you look at the statistics from previous seasons, you know, in football, you have to build up step by step, you know that nothing can happen over the night. And we have to stay again, I will repeat, we have to stay humble, we have to stay focused and concentrated. Because if you look from where are we coming, far away, you know, last year, we were second from bottom. So we must never announce big roles we want to compete. The league is good, the league is tough, many teams want to compete to be at the top of the table. But again, we have to continue game by game and see what the future will bring. Bring us. So now we are happy with the results we have to continue if we compare also to our last season as a club, where the club ended up with 17 points at the end of the season. So now we have 20 points already, we have to continue nothing's done we still have nine more games to go We hope that everything will be alright on a health level that there will be no more cases. Let's go for that and hope for the best.