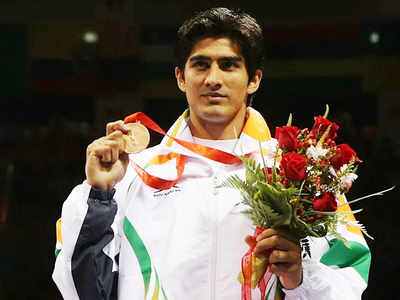 Boxer Vijender Singh wins a Bronze Medal at the Beijing Olympics, 2008.
Sports Trumpet exclusive with star Indian boxer and former Olympic Medalist, Vijender Singh
In the interview, Olympic Medalist and champion boxer, Vijender Singh speaks about the importance of fitness and his experience of entering the boxing ring again.
Vijender Singh Beniwal is an Indian boxer, who became a household name, following his success in the Beijing Olympics, 2008. He went on to claim a place on the podium, winning a bronze medal in the middleweight category for India. For the first time in Indian Olympic history, had a boxer won a medal.
Vijender had beaten his opponents comfortably before his semi-final bout against Emilio Correa of Cuba.
Correa went on to win the semi-final match 8-5, handing Vijender a tough loss. Both Darren Sutherland of Ireland and Vijender Singh, lost their respective semi final bouts and were awarded a Bronze Medal for their valiant efforts.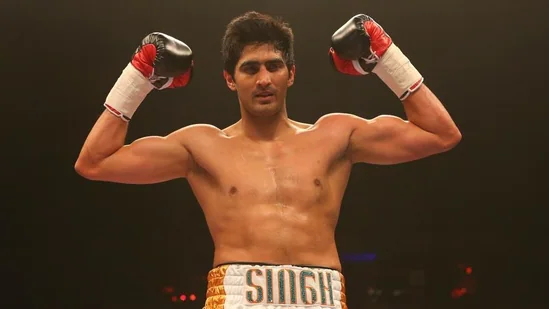 Fast forward to 2022, Vijender Singh entered the boxing ring again. Vijender Singh was one of the famous sportspersons present at the Vedanta Delhi Half-Marathon event and our Sports Journalist, Neelam Sharma got the opportunity to interview the history maker himself.
Speaking about his most recent fight, the champion boxer said "I am doing good currently in terms of workout and preparations. This was my 14th fight and it took place in Raipur."
"I got a lot of cheers from all the friends that I have in Raipur and it motivated me as I went on to win the fight by a K/O."
Next up, the prized athlete praised the Half-Marathon that will take place on 16th October, 2022. Vijender appreciated the efforts taken to host this Half-Marathon and urges as many people to participate as possible.
"Today's event is for the Delhi Half-Marathon and I am amazed by the efforts that Mr Anil Singh, Mr Vivek Singh and ProCam have taken in organising this Half-Marathon."
"They have brought about a fitness revolution in Delhi and I want all the people from Delhi to come and participate in this wonder event."
"Everyone should pay a lot of attention to fitness, it is extremely important to stay fit. Running is the first step to fitness and I hope many people come and participate in the Half-Marathon."