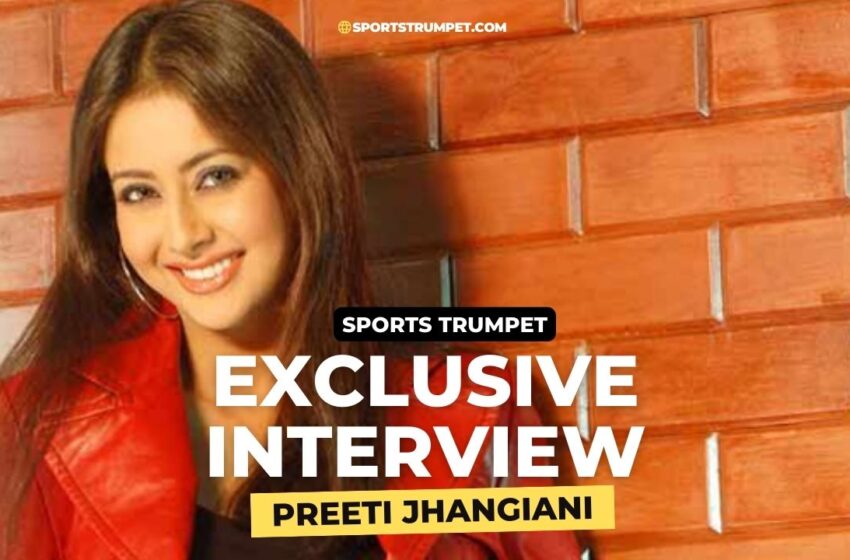 Sports Trumpet exclusive with Preeti Jhangiani
Preeti Jhangiani is an Indian actress/ model as well as the co-founder of the Pro Panja League.
In the interview with Sports Trumpet, Preeti shares how she and her better half Parvin Dabas came up with the idea of starting the Pro Panja League and much more.
First up, Preeti shares about how she and Parvin had started an MMA competition but then shifted their focus towards Arm Wrestling.
"Both Parvin and I have been fond of sports since our school days. First up, we started off with MMA. We came up with a site too, the MMA India show. Parvin is the host of the show. Unfortunately the blood sport of MMA was too violent for the Indian audience and the start up could not succeed a lot."
"As a result, we thought of forming an Arm Wrestling league, adhering to the guidelines of the IAWF. We founded the Pro Panja League, which over the years has gained a lot of popularity among the masses."
Next up, Preeti speaks about the reason behind choosing the sport of Arm Wrestling. Both Parvin and Preeti together, decided to choose Panja as a sport they want to create a league in. The other option they had was of forming a cricket league. Given Preeti and Parvin wanted a different sport, they decided to go with "Panja".
"Parvin should be credited for coming up with the core idea of coming up with the Pro Panja League. As we know,"panja" is a very easy game. There are not many complicated rules in this sport and it is a game played in almost each and every household. As a result, we decided to go with Arm Wrestling as the sport we want to form a league of."
"5 years on, Pro Panja has attracted a lot of success. Our first tournament was held in Delhi. Now, Pro Panja has attracted a lot of success in both fields – viewers and talented contestants. Preeti described Pro Panja as their "baby". Pro Panja has been a very successful venture and we hope it will keep on growing."
Lastly, Preeti talks about the purpose of starting the Pro Panja League.
"Panja as a sport has a lot of scope. Unfortunately, not many know about the scope of this sport. Panja has been played all over the country for a lot of years. There are many talents that do not know about the scope in this field. This is why we decided to start Pro Panja."
"We hope that the Pro Panja League, sooner or later, will be recognized by the AAF(Asian Arm Wrestling Federation) and the WAF(World Arm Wrestling Federation)."
Pro Panja is a successful venture for Preeti and Parvin and she signed off by saying, "I hope it continues to grow."