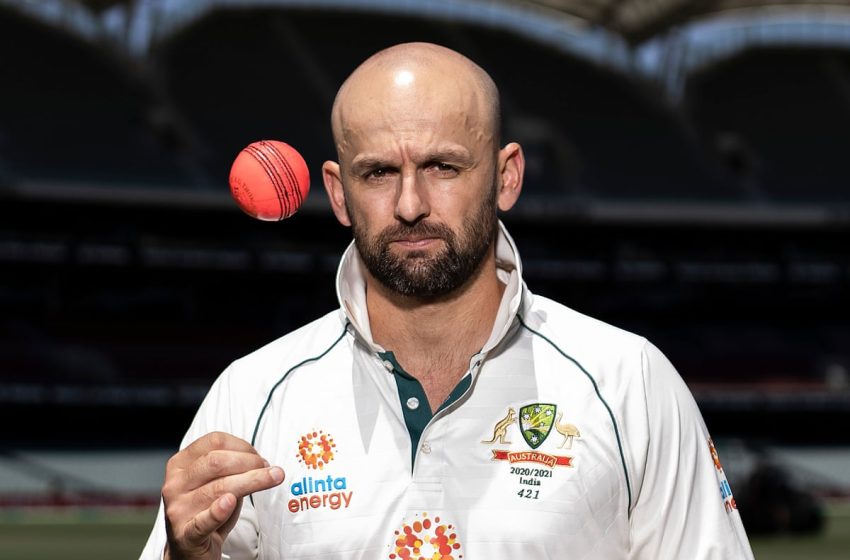 "I did have times where you come back into your hotel room and you go, 'shit, is my career done
As it turned out, it was Shane Watson, the unlikely captain for that match, who proved decisive in Lyon departing Delhi with not only the best bowling figures of his career but a fresh mental approach that has helped him become one of the game's most prolific Test wicket takers.
Until that tour, Lyon had been a mainstay of the Test side having only lost his spot once before – at the WACA Ground against India two summers prior when Australia played four fast bowlers.
It was therefore a sobering experience to find himself running the drinks with close friend Mitchell Starc for the second Test of the 2013 tour in Hyderabad when Xavier Doherty and Glenn Maxwell were preferred as the side's spinners.
"I think Nathan still has a massive future and he probably is up there as our best spinner at the moment, but you fluctuate in and out of form and he's learning the game at international level, which is a really tough gig for him," then coach Mickey Arthur said after Lyon returned 4-244 in the series opener in Chennai.
"… truth be told he hasn't gone well this year."
Even after his recall for the third Test, Lyon got to Delhi a series bowling average of 65 and an economy rate of almost 4.5 per over. Needless to say, Australia were winless in the series.
I did have times where you come back into your hotel room and you go, 'shit, is my career done?'" Lyon told cricket.com.au.
"That's where I was very lucky to have the likes of Brad Haddin and Mike Hussey on the phone if I wanted it, I could get access to those guys for a bit of guidance through the tough times.
"It was a really good learning curve as well. I (had to) figure out what I need to do to get better and how am I going to go about that."
Watson too could have been forgiven having his mind elsewhere at that point.
The then vice-captain had been suspended for the third Test in Mohali following the infamous 'Homework-gate' saga. Effectively labelled selfish by Cricket Australia during a public slanging match with high-performance boss Pat Howard, Watson returned home for the birth of his first child.
Then, after a late dash to return to Delhi for the fourth Test, Watson somehow found himself leading the dishevelled side in the injured Michael Clarke's absence.
And the allrounder would leave Lyon with a mantra that remains a staple of his mental approach to bowling even now.
I actually really enjoyed playing under Watto," said Lyon.
"He was really good – and I'm not saying Pup (Clarke) wasn't, Pup was amazing – but a fresh captain at that time, after being dropped (was beneficial).
"He (Watson) just said to me, 'roll your sleeves up and get in the fight'. That stuck with me for a long time, that's been with me every Test since.
"It's just a little cue to me, just to make sure that we're in the contest here and we're making sure that we're doing things that keep me in the fight and give me the best chance of success."
But, although it may have been overlooked at the time amid the carnage of the preceding weeks and the further chaos to unfold in the early part of the ensuing Ashes tour, Lyon flew back to Australia with a renewed belief in his value to the team.
Replying to Australia's 262, India had raced to 0-108 in their first innings before Cheteshwar Pujara (who had tormented the visitors in Lyon's absence in Hyderabad with a marathon double-hundred) was soundly beaten by a flatter Lyon delivery that beat his outside edge and collected his off-stump.
A young Virat Kohli playing in hometown Test was then also swiftly outfoxed by the then 25-year-old.
Lyon needed all his surging confidence to hold his nerve against Sachin Tendulkar, who had earnt an even more deafening welcome than usual amid claims he may be on the verge of retirement. From around the wicket, Lyon trapped him on the crease to get him lbw.
By stumps, he had a third career five-wicket haul before sealing a Test-best haul of 7-94 the following morning.
That Lyon was dropped again only months later when Ashton Agar made his famous debut at Trent Bridge highlighted that Australia were yet to realise they had unearthed a generational bowler.
"I was a very young and raw at that point in my career," said Lyon, echoing Arthur's words after the Chennai Test at which point Lyon had played 20 Tests.
I know a lot of people say (20) Tests is a lot of Test cricket, but as a spinner, only having four Shield games before that (his Test debut in 2011) – you're only looking at (about) 20 games of cricket.
"It's not a really big space for learning.
"It definitely put me in a decent head space from playing under Watto, that's for sure."
And after a challenging outing in the series opener of this ongoing contest for the Border Gavaskar Trophy in Nagpur last week, Lyon knows he has proven himself here before.