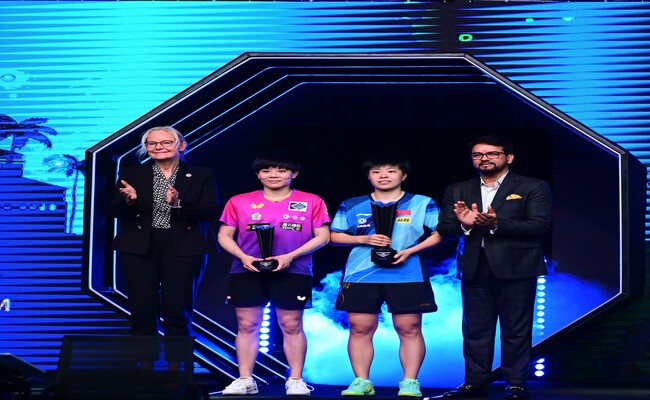 China sweeps singles titles at WTT Star Contender Goa
Table Tennis powerhouse China, swept both the singles titles at the first ever WTT Star Contender Goa, when world number (wr) four Wang Yidi brushed aside Chinese Taipei's Cheng-I-Ching (wr #31) 4-0 (11-6,11-6,11-8,11-4) in a 37-minute demolition, here at the Dr. Shyama Prasad Mukherjee Indoor Stadium at Taleigao. That confirmed the singles sweep as the men's singles was an all-Chinese affair, in which Liang Jingkun (wr #7) beat 17-year-old compatriot Lin Shidong (wr #24) 4-2 (11-6,9-11,10-12,12-10,12-10,11-9) in the best of seven final, which was a much closer affair. This was also Wang's second consecutive WTT Star Contender title, after her win in Budapest in July last year.
WTT Star Contender Goa was hosted by STUPA Sports Analytics, the official data partners for WTT and International Table Tennis Federation, along with the Government of Goa. Sports Authority of Goa and Dream Foundation are the event partners while Table Tennis Federation of India are the supporting partners
Both the singles finals were played in the gracious presence of Shri. Anurag Thakur, Hon. Union Minister for Information and Broadcasting and Youth Affairs and Sports, as well as Ms. Petra Sorling, President, International Table Tennis Federation (ITTF), among other dignitaries. The two also played some ping-pong together.
China all the way in singles
In the women's singles, Cheng appeared simply outclassed by Yang. Only in the second game there was a moment when both were tied at eight, but beyond that brief period, Wang was in complete control throughout the match. All she would say after the match was, "Overall I feel really nice to take part in this tournament and win it."
The men's singles final was a complete contrast in comparison. There were no quarters given as both men treated the packed stadium to some outstanding table tennis.
Liang took the first game, but the youngster Lin came back strong to take the next two and looked favourite to take the match when he led 7-2 in the fourth. However, Liang dug deep and used all his experience to claw back and take the game at 12-10. The teenager led for most of the fifth as well, but Liang had come with a mission and won that 12-10 as well. To Lin's credit he was not bogged down and kept at it, but Liang was too strong on the day, winning the sixth 11-9 and with that the title.
The humble Liang said after the match, "Thank you everyone for your support I will continue to work hard." On his compatriot Lin he said, "He is a very important part of the Chinese team and hopefully in the future also he will be a very important player for China."
Popular winner in women's doubles
The Japanese pair of Miyu Nagasaki and crowd favourite Miwa Harimoto, won the women's doubles, with a comfortable 3-0 (11-9,11-7,11-6) win over the Chinese Taipei pair of Cheng and Li Yu-Jhun. 14-year-old Miwa, who has endeared herself to the fans in Goa with her performances which saw her reach two finals in doubles, besides the women's singles semi-finals, was finally and deservedly rewarded with a title. She had earlier on Saturday, lost the mixed doubles final to the Korean pair of Jang Woojin and Jeon Jihee. Miwa said after the match, "This is my first time winning WTT women's doubles title, I am really very happy". Chinese Taipei's Cheng, who also had a great tournament, unfortunately found herself on the wrong side of two finals on the day.
Korea wins men's doubles for second title at Goa
The Korean pair of An Jaehyun and Cho Seungmin took the men's doubles crown, ensuring Korea match China with two titles in Goa. The duo beat Japan's Shunsuke Togami, who incidentally also finished runner-up in two finals, and Yukiya Uda 3-1 (11-3,9-11,12-10,11-4) in the final match of the tournament