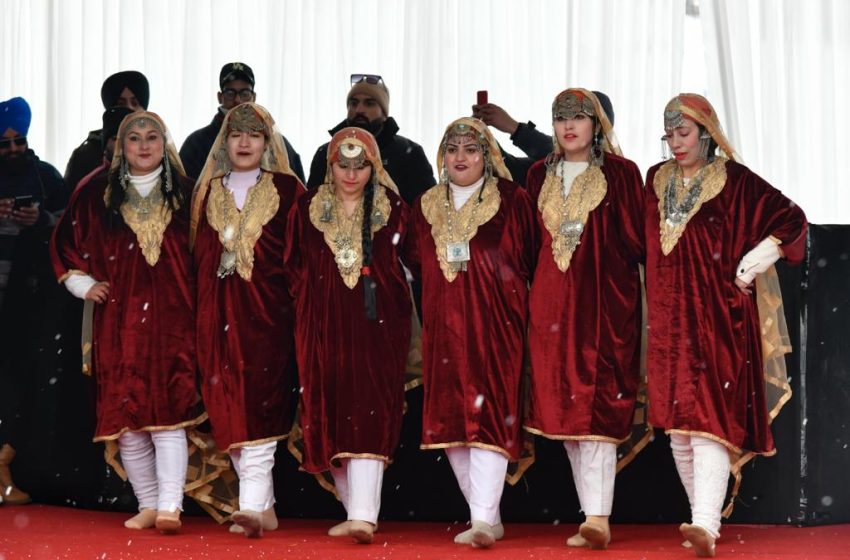 Anurag Singh Thakur, LG of J&K officially declare Khelo India Winter Games 3rd edition open in Gulmarg; 40 Khelo India Centers
Anurag Singh Thakur, LG of J&K officially declare Khelo India Winter Games 3rd edition open in Gulmarg; 40 Khelo India Centers launched in J&K on the occasion
SAI Media Team
February 10, Gulmarg: Honourable Minister of Youth Affairs and Sports Shri Anurag Singh Thakur declared the Khelo India Winter Games 3rd edition open in Gulmarg on Friday. The Union Minister was joined by Hon'ble Lt Governor of Jammu and Kashmir, Shri Manoj Sinha, other dignitaries and masses of young athletes, coaches and staff.
A special message was also sent by the Hon'ble Prime Minister of India Shri Narendra Modi to motivate the athletes. Honourable PM sent his best wishes to participating athletes, coaches and officials.
The opening ceremony remained electric in ways more than one. White pigeons were released in the air bringing forth the message of peace, traditional dance performances were fused with feet thumping groove and sports wise, there was also a significant e-launch of 40 Khelo India Centres across the valley.
"While the opening ceremony had it all, I found the biggest of applause came from the attendees when we announced the launch of 40 Khelo India Centres here across Jammu and Kashmir," mentioned Shri Thakur. "The message given out by the Hon'ble Prime Minister Shri Narendra Modi of 'Kheloge, toh khiloge' has been upheld by the best possible way by J&K and the contribution the region has made in the last 3 years have been commendable.
Promising more such initiatives to build the sports ecosystem of J&K, Shri Thakur added, "The Ministry of Youth Affairs and Sports will keep helping Jammu and Kashmir financially, providing the best of coaches, etc. I am also happy to let you know that a Centre of Excellence for Winter Sports will be opening here soon."
The Winter Games will take place until February 14 in Gulmarg and over 1500 athletes across 29 States and Union Territories are taking part. The total sports disciplines are 11.
Shri Manoj Sinha commented, "The entire country is united for the 3rd edition of the Khelo India Winter Games. While the games happen, it gives the entire nation the chance to enjoy the hospitality, the games and incredible sights of the valley. I thank the Ministry of Youth Affairs and Sports, Sports Authority of India, J&K Sports Council and all the other stakeholders who have helped in giving us a chance to organize these games again in Gulmarg."