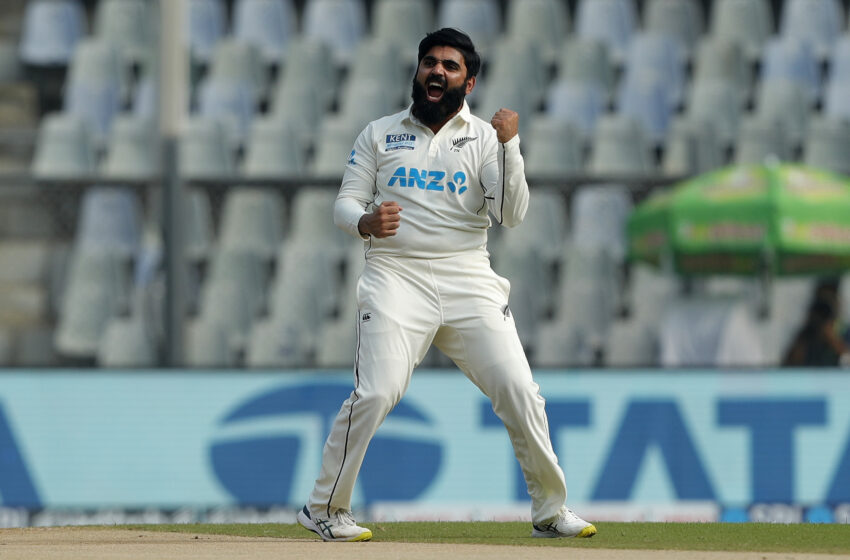 Ajaz Patel Creates History! Hits All 10 Indian Wickets
On Saturday Mumbai-born Kiwi spinner Ajaz Patel carved his name in the gold letter of history book at the Wankhede Stadium after becoming only the third player to take 10 wickets in a particular session of a Test match after Jim Laker and Anil Kumble. Patel received a standing ovation at the Wankhede Stadium as he displayed as the primary New Zealand bowler to capture all 10 wickets in Test sessions.
Ajaz Patel became the only third bowler in the history of Test cricket to grab 10 wickets in an innings. The left-arm spinner accomplished the achievement throughout the second Test of the series on India in Mumbai.
Patel rolled 47.5 overs, allowing 119 runs for his ten wickets brilliant hall in the first sessions of the second Test match. Unexpectedly, India's Anil Kumble was the last bowler to record a 10-wicket haul. He accomplished the deed during a Test in Delhi against Pakistan in 1999.
The left-arm had ended with four big wickets on the First Day of the Test and remained on his glorious run in the day session of Day 2. Even as the additional spinners were remarkably expensive in opposition, Patel held everything secure at his end as he proceeded to deliver regular shocks to the Indian players.
The first ball of his over that he delivered to Pujara in on the foremost confusion with one that moved on with the different angle. Twice in series, Ajaz had been denied the wicket of Pujara, and twice in sequence, he had had his guy on next ball.
Four balls later, Ajaz caught Kohli in port on the first guarding. One could tell it was a pad-bat-pad, another could assume it was a bat-pad. Umpire Anil Chaudhary thought Kohli was left leg-before, and there was nothing certain for third umpire, Virender Sharma, to order differently.