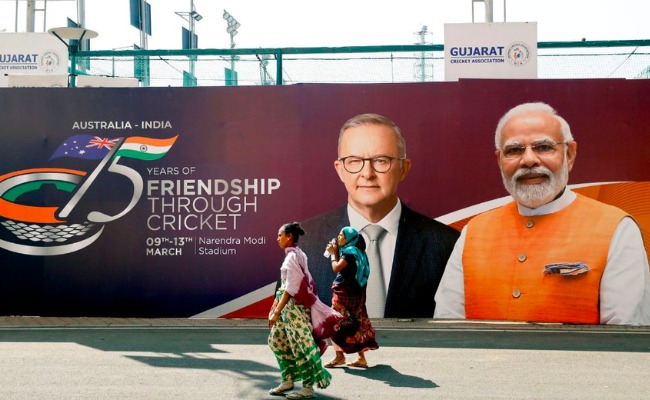 Modi-Albanese
Ahmedabad Test: Motera decks up for Modi-Albanese visit
Australian Prime Minister Anthony Albanese and Indian Prime Minister Narendra Modi will be present at Ahmedabad during the fourth test of BGT 2023.
Australian Prime Minister Anthony Albanese said he and Prime Minister Modi will be at the toss for the fourth and final Test for the ongoing series between India and Australia for the Border-Gavaskar Trophy, at Ahmedabad on Thursday. PM Modi and his Australian counterpart will be in attendance on the opening day of the fourth Test on Thursday.
In a radio interview with NOVA 93.7 Perth ahead of his ongoing visit to India, Albanese confirmed to the hosts, Nat Locke and Shaun Mcmanus, that he and PM Modi will be at the toss for the Ahmedabad Test. "There is a lot of pressure on because myself and Prime Minister Modi are tossing the coin," read a transcript of Albanese's radio interview on the PM's official website. However, the Australian PM did not say if it will be him or PM Modi who will toss the coin.
To a question by the host, Nat, on "how do two people toss one coin", the Australian PM said, "I have no idea how it is going to work. But he is the home Prime Minister. So, I think he will be in charge." Banners of Prime Minister Modi and his Australian counterpart have gone up at the Narendra Modi stadium ahead of the final Test. Earlier, Australian High Commissioner to India, Barry O'Farrell, told ANI that the Australian Prime Minister will watch Day-1 of the fourth Test of the ongoing Border-Gavaskar series along with PM Modi on March 9.
"One of the things that bind both countries is cricket and it will be great to see the leaders of India and Australia on day one of the matches in Ahmedabad," the Australian High Commissioner said. India is currently leading the series 2-1. However, the hosts need to secure an outright victory in the final Test to qualify for the final of the ICC World Test Championship.